Months from now, after the sense of fizzy overwhelm has lifted and the better-than-expected dust has settled, there will be two moments that recall for me the fire hose of Coachella, beyond the performances and surprises long since blasted across social media and dissected in Reddit threads. The first was a woman in a swimsuit and crocheted cover-up rousing a line of strangers on Friday afternoon with "who's ready to see Bad Bunny?!" And the second was a snippet heard while dodging people either posing or on their phones in between the giant ferris wheel and trippy, holographic art installations – "how do you take such good pictures?"
Such was the non-music vibe of the music festival: questionably workable and confidently worn outfits, waiting in line, hype for the headliners, the warmth of desert sun and buzzed strangers. This was my first time at Coachella, but I've been on the internet long enough to know certain truths about the festival: it can be chaotic but is slickly run and ever expanding; the headliners could be once-in-a-lifetime or patchy but rarely forgettable. The weekend is as much about the photos and the fashion as the music. Crochet will abound, and Vanessa Hudgens will be there.
This was borne out (minus Fomo-feeling Vanessa Hudgens) over the festival's first weekend, its second run-through since the pandemic forced two years off from the annual desert convergence. The fashion was indeed flamboyant and zeitgeisty – butterfly clips and bucket hats and metallic cowboy boots, several remixes of the Euphoria pants, and more variations of a certain Nasty Gal disco chainmail non-top than I could count. I assisted strangers on several photos by the ferris wheel. Other than an hours-long bottleneck for shuttles following Frank Ocean's bizarre, abruptly truncated set on Sunday evening, the many lines were mostly within reason.
But beyond the selfies, fashion-watching and the rolling tides of very festival people, Coachella 2023 seemed to continue the event's embrace of global, ascendant popular music. The crowd was more multilingual and racially diverse than years of Coachella-themed fashion campaigns led me to believe, perhaps owing to precedent-setting headliners – on Friday, the wildly charismatic Bad Bunny kicked off festivities as the first Latino and Spanish-language headliner with a invigorating, justice-minded party that even technical difficulties with guest Post Malone couldn't derail. A day later, the first Asian and all-female group to headline, K-pop sensations Blackpink, turned up the volume on the weekend with a torrent of militant pop bangers and tightly executed choreography.
With all the lawn-crossing and rushing from set to set, you could catch wind of the weekend's victors. People buzzed about Metro Boomin, the storied trap producer who enlisted collaborators Future, John Legend, Don Toliver, 21 Savage, Diddy and The Weeknd for his Friday night set in the Sahara tent, an electrified half-pipe whose track record of hosting breakout EDM and hip-hop acts has earned it a reputation as the beating heart of the festival. The hotly anticipated live performance debut of legendarily reclusive London singer/producer Jai Paul on Saturday was, depending on your attachment to his influential early 2010s demos and leaked 2013 album, either a cathartic triumph or a muddled first (and hopefully not last) attempt.
The success of a bevy of electronic and house artists (Coachella's bread and butter) – SG Lewis, the Chemical Brothers, a transcendent appearance by Kaytranada with guests Kali Uchis and Aminé, Fisher and Chris Lake, a sublime sunset performance by Sofi Tukker – depended in part on the ebbs and flows of one's energy and what substances people were or were not taking. ("Who's on drugs tonight? Who's high right now?" said Frank Ocean to cheers during one of his few acknowledgments of the tittering crowd on Sunday night.) As did people's movements across the mirage-tinged Empire Polo Club's rapidly deteriorating grass; it is possible to attend Coachella and stick strictly to smaller tents and alcohol-sponsored rooms of ongoing DJ sets, the beats ramping up and down with the highs. (Not to mention the VIP areas circling the grounds' perimeter, a twice as expensive and assumedly luxurious experience stratifying the crowd and playing on the ever-lucrative desire to go places where other people cannot.)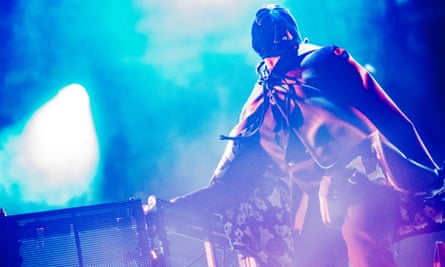 Saturday was a triumph of female artists – a kinetic set in the baking sun by Charli XCX, outfitted as a hot alien with guest Troye Sivan; the coronation of heart-on-their-sleeve supergroup boygenius (Phoebe Bridgers, Lucy Dacus and Julien Baker), hot off the release of their debut album The Record. Red-hot Spanish flamenco singer turned pop star Rosalía delivered on several tracks from her swaggering, voraciously genre-absorbing album Motomami, with a victory lap accompanied by her new fiance, Rauw Alejandro, for their duets Beso and Vampiros. And then, of course, there was the biggest girl group in the world, Blackpink. Calvin Harris, the unofficial fourth headliner who closed out Saturday night, faded into the background.
While acts such as Rae Sremmurd (who ran 30 minutes late on Sunday, an unfortunate trend as the first weekend wore on) skewed college-age or teen, there was an uptick from last year in terms of legacy acts with a deep discography. Blondie held down the Mojave tent on Friday with a spin through classics One Way or Another and Heart of Glass, plus an assist from Nile Rodgers on Rapture. Blink-182 reunited its original lineup – Mark Hoppus, Tom DeLonge and Travis Barker – for the first time since 2014 for a set announced at the last minute that packed the Sahara tent. ("There are so many UTIs about to happen this weekend" said Hoppus, one of many crass jokes the group cracked as, related or not, their crowd thinned over the course of a back-loaded set.) True to form, Bjork's vibe when taking the main stage on Sunday was unlike anything else at this festival – dressed in translucent needles, her hair slicked into fish gills and backed by a full orchestra, her operatic performance was beautifully discordant and typically weird.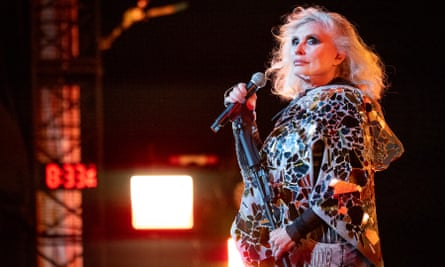 I left Coachella with the aftertaste of dust and several indelible images: three fists holding up the back of Damon Albarn's pants as he spent a more than reasonable amount of Gorillaz's commanding set perched on the stage fence, singing right into the faces of several fans. The cool grace of Ethel Cain, her thundercloud Gothic Americana working on me better than any of her recorded tracks. The feel of a stranger leaning on my leg as we collectively waited an hour beneath the night sky for Frank Ocean. Bracing against the wall of a portable restroom literally rattling to Eric Prydz's HOLO set. Several women with minimal coverage tops wrapped in metallic thermal blankets against Friday's chilly wind as if at a marathon, which is not dissimilar from the Coachella experience.
As with any mass gathering, Coachella reinforced people at their worst (the lawn ended each day pollinated with trash for an army of late-night workers to pick up) and their best (shout-out to Dan, whose friends got a whole section of Ocean's crowd to help locate him for 20 minutes). Even the sour taste of Ocean's unceremonious final note couldn't upset a balance that, ultimately, trends toward headlines and highs.