---
Going out: Cinema
Infinity Pool
Out now
This weird and wonderful film confirms that director Brandon Cronenberg is very much taking after his famous father David in the body-horror stakes. An author (Alexander Skarsgård) suffering from writer's block shows up to a White Lotus-style resort, only to find things are less luxury getaway, more psychosexual nightmare.
Wes Anderson marathon
Prince Charles cinema, London, 25 & 26 March
Not got Saturday night plans? Get yourself along to Leicester Square, where, from 9.30pm until 7.20am (that is not a misprint) you can enjoy a marathon five Wes Anderson films: Rushmore, The Royal Tenenbaums, The Life Aquatic With Steve Zissou, Moonrise Kingdom and The Grand Budapest Hotel.
80 for Brady
Out now
Sports comedy starring several legends of cinema (Lily Tomlin, Jane Fonda, Rita Moreno and Sally Field) as four lifelong friends determined to make the very most of their senior years, with a trip to see hall of fame NFL quarterback Tom Brady play at the Super Bowl.
¡Viva! Spanish & Latin American festival
Home, Manchester, to 30 March
This celebration of Spanish and Latin American film culture is now in its 29th year, and alongside 25 new feature films, brings a mixture of archive cinema (including two classics from Spanish director Juan Antonio Bardem) and shorts from Latin American feminist film collectives. Catherine Bray
---
Going out: Gigs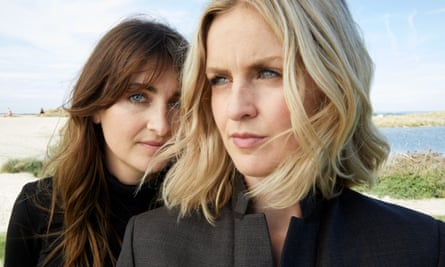 Ward Thomas
30 March to 18 April; tour starts Glasgow
Twin sisters Catherine and Lizzy Ward Thomas returned earlier this month with a fifth album of soft-focus country-pop, Music in the Madness. Expect a smattering of songs from that alongside their biggest hit, the breezy Carry You Home, from their 2016 chart-topper Cartwheels.
Orbital
28 March to 8 April; tour starts Glasgow
The enduring electronic duo pack up their light-up headsets for a tour in support of last month's 10th album, Optical Delusion. A UK Top 10 hit, it features raging polemicists Sleaford Mods and choral ensemble Mediæval Bæbes, so best to go into these shows with an open mind. Michael Cragg
Marius Neset
Ronnie Scott's, London, 27 March
A young titan of European new music, the Norwegian saxophonist-composer Marius Neset hit the ground running as a gamechanging force in both sax improv and genre-colliding composition in 2010, and has never looked back. Neset's exciting band includes former Phronesis drums firebrand Anton Eger, and UK keys original Elliot Galvin. John Fordham
A House of Call
Royal Festival Hall, London, 25 March
Heiner Goebbels' "phonographic collection from my imaginary notebook", his first orchestral score in more than a quarter of a century, receives its UK premiere from the London Philharmonic, conducted by Vimbayi Kaziboni. It's a typically eclectic mix, prompted by voices sourced from the whole history of recorded sound, to which Goebbels responds with equally diverse music. Andrew Clements
---
Going out:Art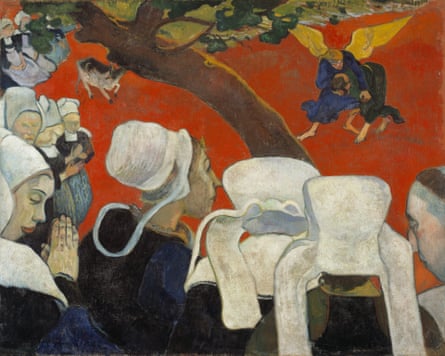 After Impressionism
National Gallery, London, 25 March to 13 August
Modern art was not born by magic on 1 January 1900 but had roots deep in the 19th century. This exhibition dives into the revolutionary works of Cézanne, Van Gogh and Gauguin, and follows their influence through to Picasso, Matisse, Mondrian and more. See tradition melt and perspective shatter.
Carey Young
Modern Art Oxford, 25 March to 2 July
Judges have often got a raw deal from artists – not least Hogarth, who satirised them snoring on the bench. Carey Young's video Appearance is more sympathetic. She silently films 15 female judges, in a work that's as much celebration as scrutiny. Another piece imagines a justice system run by women.
JMW Turner With Lamin Fofana
Tate Liverpool, to 24 September
This excellent exhibition has been extended until autumn and is well worth seeing and hearing. Fofana's stentorian soundtrack, including a remixed Rivers of Babylon, goes very well with the roiling undertows of terror and melancholy in JMW Turner's paintings of storms at sea, Arctic whaling, and women caught in a shipwreck.
Painted Prints
Marlborough, London, to 22 April
The contemporary print-maker Jimmy Merris creates existentialist images of wry bleakness in Munch-like layers of intense colour. He shows alongside the late Gillian Ayres, whose abstract art sets the print medium aflame in flowing cascades of colour, and Liorah Tchiprout, whose works explore her Jewish identity with Rego-like intensity. Jonathan Jones
---
Going out: Stage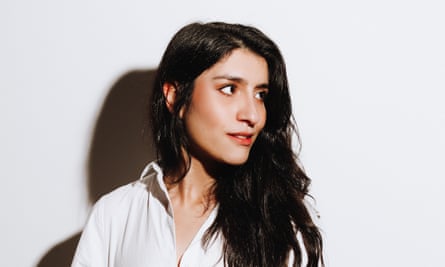 Celya AB
Soho theatre, London, 29 March to 1 April
There are few things as gratifying as culture-clash comedy – especially when British reserve is the butt of the joke. It's something this Paris-raised, Birmingham-based standup has made her speciality, and her gentle ribbing has gone down a storm so far, bagging the 28-year-old best newcomer at last year's Chortle awards. Rachel Aroesti
Sea Creatures
Hampstead theatre, London, to 29 April
A cottage by the sea. A guest who never arrives. Written by the impressive, award-winning playwright and librettist, Cordelia Lynn, this is a haunting tale, with a stellar cast and sound by Cruise's Max Pappenheim. Kate Wyver
Waldo's Circus of Magic & Terror
Bristol Old Vic, to 1 April; touring to 7 June
Touring later this year, tThis large-scale new musical from disability-led theatre company Extraordinary Bodies is a feat to behold. Informed by the real lives of circus performers in 1930s Germany, the show celebrates risk and resilience. All performances are signed, captioned and audio-described. KW
JV2
JVhome, Ashford, 31 March & 1 April; touring to 6 April
Choreographer Jasmin Vardimon recently opened her company's new building. You can get a look inside at these performances by JV2, her troupe of graduate dancers, in triple bill of works by Vinicius Salles, Andre Rebelo and Vardimon herself. Lyndsey Winship
---

Staying in: Streaming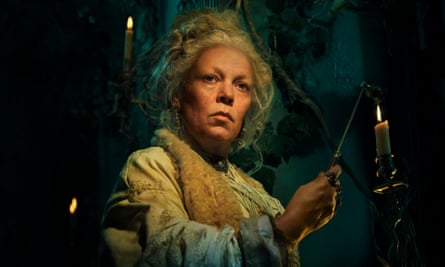 Great Expectations
Sunday 26 March, 9pm, BBC One & iPlayer
Another decade, another dramatisation of Dickens' 1861 novel, this time by Peaky Blinders creator Steven Knight, who brings his trademark grisliness to the tale. Olivia Colman is a particularly horrifying Miss Havisham; Line of Duty's Shalom Brune-Franklin is her adopted daughter Estella, and Dunkirk's Fionn Whitehead is our protagonist Pip.
Succession
Monday 27 March, 2am/9pm, Sky Atlantic/Now
The end is nigh – and it's unlikely to be a happy one for the ever-warring Roys. The fourth and final series of Jesse Armstrong's wickedly funny drama about the awful children of an equally awful media mogul sees Shiv, Kendall and Roman plumb ever dirtier depths in their attempt to wrest control of their father's empire.
The Power
Fri 31 March, Amazon Prime Video
Imagine a world where teenage girls are suddenly able to discharge electricity from their fingers, upending centuries of patriarchy in the process. Naomi Alderman did to great effect in her sprawling 2016 sci-fi novel, which has been adapted into this small-screen epic, featuring Toni Collette, Toheeb Jimoh and Ria Zmitrowicz.
The Big Door Prize
Wednesday, Apple TV+
Chris O'Dowd stars in this high-concept drama, adapted from MO Walsh's 2020 novel. When a mysterious machine materialises in town, it offers residents the chance to learn their maximum life potential via a DNA test – information that leads to some drastic career changes and a reassessment of where happiness truly lies. RA
---
Staying in: Games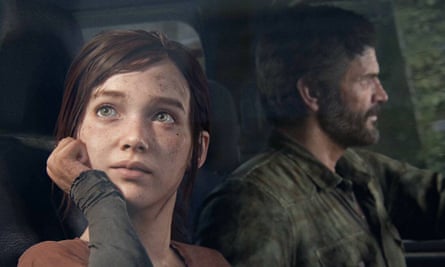 The Last of Us Part I
Out 28 March, PC
If you've been watching the TV series and want to play as Joel and Ellie, this technologically impressive remake of the original game is finally out on PC.
Dredge
Out 30 March, PC, PS4/5, Nintendo Switch, Xbox
In this eldritch horror fishing sim, you're a small fishing crew arriving in a new village, and something feels off with the locals. As night draws in, you start finding stranger and stranger things in your net. Keza MacDonald
---
Staying in: Albums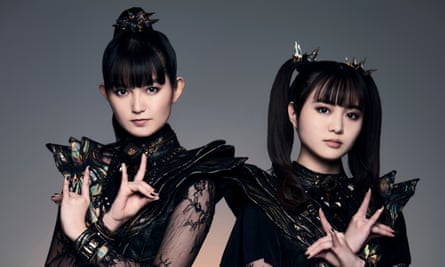 Babymetal – The Other One
Out now
After a year's hiatus off in which they "sealed" themselves from the world, the Japanese kawaii metal pioneers, led by Suzuka Nakamoto and Moa Kikuchi, return with an OTT concept album exploring the virtual Metalverse. Light and Darkness suggests an epic quest for survival, while the raging Monochrome is classic Babymetal.
Lana Del Rey – Did You Know That There's a Tunnel Under Ocean Blvd
Out now
On her luxuriously meandering ninth album, Lana Del Rey shuffles through her various musical iterations. The seven-minute long A&W, for example, skips between mumbled folk, rustic Americana and the trap-adjacent half-rapping of her breakthrough album Born to Die, while the title track is a piano ballad stretched to epic proportions.
6lack – Since I Have a Lover
Out now
It's nearly five years since Atlanta rapper 6lack released his second album, East Atlanta Love Letter. It's clearly been weighing on his mind, with recent single A Letter to My Fans essentially a spoken apology. Title track Since I Have a Lover, meanwhile, makes good on his summary of the record being for the heart.
Depeche Mode – Memento Mori
Out now
The stadium-slaying goth-poppers return with their 15th album, and first as a duo following the death of keyboardist and founding member Andy Fletcher. Co-produced by James Ford, Memento Mori finds the band musing on obsession, catharsis and ultimately joy, as showcased on the reflective lead single Ghosts Again. MC
---
Staying in: Brain food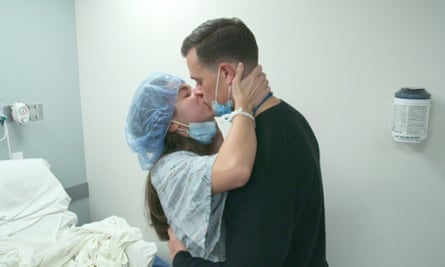 Emergency NYC
Wednesday 29 March, Netflix
Medical docuseries are in abundance but this glossy eight-parter takes a different tack, following emergency workers in New York and playing as an often harrowing insight into the US's private health system.
Outcast UK: Queer & the Beat
Podcast
Comprehensive LGBTQ+ issues podcast Outcast UK has launched a miniseries hosted by the radio personality Paris Munro, who explore how music has helped artists confront their identities and histories. Guests include the rising pop star Josef and dance music singer Ultra Naté.
Still Life
Vimeo
Using more than 1,000 images of engravings from the 19th century, experimental film-maker Connor Griffith's short film plays as a mesmerising seven minutes exploring the intricacies of object depictions and our capacity to form narrative out of stillness. Ammar Kalia