Six minutes into referee Darren England's fourth Premier League match of the season, he found himself with a decision to make. A Fulham midfielder, Nathaniel Chalobah, had made a late challenge and caught a Newcastle player, who fell to the ground with a yelp so loud it cut through the noise of the Geordie away fans. "That's fucking red," an old-timer seated in front of me yelled.
It was a moment that could determine the course of the match, and Darren England's season. Competition among elite domestic referees is fierce. Their performances are meticulously dissected, reviewed and ranked by their bosses at Professional Game Match Officials Ltd (PGMOL), the body that runs officiating in English professional football. Among the 19 referees who work predominantly in the Premier League, the best performers are appointed most often, and they are the ones who get the most sought-after matches, those between the top-six clubs, which officials call "golden games". If, as senior PGMOL figures like to say, the Premier League officials are the 21st team in the division, then its star players are Anthony Taylor and Michael Oliver, who are appointed to most of the big matches. "Just like Liverpool will always play [Virgil] van Dijk in a big game, we'll appoint our big hitters," Martin Atkinson, a former referee who now works as a coach for PGMOL, told me.
England was just starting his third season in the Premier League and, at 36, he was among the youngest referees in the division. He hadn't yet been assigned a golden game, but his target this season was to get himself in contention. He knew that major mistakes could lead him to being temporarily demoted to lower leagues and might set him back months, even years.
For a moment, England allowed the Newcastle attack to unfold before stopping play. To warrant a red card, according to the laws of the game, Chalobah's tackle would need to have endangered the safety of the Newcastle player or to have been made with "excessive force or brutality". Sending off a Fulham player this early would hand Newcastle a huge advantage, and England was conscious he hadn't been in the right position to judge. At the moment contact was made, he was too close. The idea that a referee can be too close to the action sounds odd, but, according to a 2012 study, the best decisions are made at a distance of between 11 and 15 metres – close enough to judge contact, far enough to judge a player's intention and the intensity. Most referees maintain a distance of about 15 metres. "The difference between getting a decision right or wrong can be five yards," England told me later.
England tried to replay the incident in his mind, but nothing came. He decided on the safer option: a caution. If it was the wrong call, he knew it wouldn't define the match. But as he placed the yellow card back in his pocket, he heard Mike Dean, the video assistant referee (VAR), in his earpiece. "Darren, it's Mike. I am just checking for a potential red card. Delay. Delay. Delay," Dean said. "I recommend an on-field review for a possible red card … Let me know when you're at the screen."
Adrenaline raced through England's body as he made his way to the pitch-side monitor. On the screen, Dean replayed the incident from a wide angle, to demonstrate the intensity of the challenge; and then a second angle, which showed the contact was high on the Newcastle player's leg. Step by step, England walked Dean through the incident as he was seeing it, until it became clear that he'd made a mistake. He rescinded the yellow card, and now sent Chalobah off. It was only the second red card he'd given in the Premier League.
Newcastle went on to win the game, but afterwards England was the centre of attention. In his post-match press conference, Fulham manager Marco Silva fumed at the lack of consistency among Premier League referees. I joined England in his car as he made his way home to Doncaster. Children's toys poured out of every compartment. TalkSport played softly on the radio. As he navigated the busy streets of west London in his Land Rover, his wife called to find out what had happened. "It was a high tackle, above the ankle, but it didn't look like it in real time," he reassured her. "I couldn't have known."
With about 100 miles to go, England and I stopped at a motorway service area for sushi. On Twitter, fans of just about every club, angry about that day's decisions, were complaining about the state of Premier League officiating. And not just fans. "Honestly what is the point of #var we chop and change every week what it does what it thinks," tweeted Crystal Palace chairman Steve Parish, annoyed at a decision that had gone against his team. Other fans wanted to know why, even with technology, referees were still getting so many key decisions wrong? Wasn't VAR supposed to cut all this out?
When I put these complaints to England, he was unmoved. There were two problems, he said. First, impossible expectations. "People don't expect a striker to score every time they shoot, but for us every decision needs to be correct," he said. No one notices the things referees do right, but everyone remembers the errors.
The second problem was deeper. People mistake refereeing for an objective science, practised badly. But football is a physical sport, and judging whether each contact is within its laws will always involve subjectivity. Different referees will judge incidents differently, England said. Until we accept that subjectivity is part of the game, we're never going to be satisfied. "The thing is," England added, for many decisions, "there is no 'correct'."
1. A story of perpetual decline
---
In theory, football is a simple game. In practice, not so much. The game only has 17 laws, but the rulebook runs to more than 100 pages. Today's Premier League referees have to make about 300 decisions per game. (A "decision" is classed as every time a referee could blow their whistle, not every time they do. Many decisions go unnoticed, because the referee opts not to stop play.) Some decisions concern matters of fact, such as awarding throw-ins when the ball goes out of play. But many decisions are interpretations of physical coming-togethers, and a small percentage of these have the potential to shape the outcome of the match. Football is low-scoring, which means the referee's role is particularly crucial; a single call can swing a game.
In 2001, England became the first country in the world to embrace professional football referees across its top division. Until then, many referees squeezed in matches around their day jobs as teachers, farmers, taxi drivers or newsagents. Mike Dean, who went on to referee 560 Premier League matches, worked in a chicken abattoir. But as football became faster and the physical demands on referees grew, and as the Premier League became an increasingly lucrative global media product, professionalisation came to seem inevitable. Under the new system, 24 top referees were chosen by senior staff at the newly formed PGMOL, to make up the so-called Select Group. They would be paid a basic salary of £35,000 plus match fees to referee across the Premier League. "You had several guys who were always eating fast food suddenly eating at Michelin-starred restaurants," recalled Keith Hackett, PGMOL's first development manager.
Referees were now required to follow a structured fitness training programme and attend biweekly group training sessions, where they would analyse clips of incidents and receive coaching from sport scientists, psychologists and nutritionists. "We had to show them how to be professional athletes," Hackett said. In the past, referee Andre Marriner told me, officials were often "small, dumpy, middle-aged men", who would drink and smoke; today they are formidable athletes. Between the 2003/04 and 2009/10 seasons, writes Tom Webb, the founder of the Referee and Match Official Research Network, the average number of sprints completed by Premier League referees rose from 19 to 41, about the same as a central midfielder. During a fixture last August, referee Peter Bankes achieved a top speed of 20.2mph, making him faster than all but two players on the pitch that day.
No one disputes that referees are as fit as they've ever been. The problem, according to many observers, is that referees are also worse than they've ever been. In 2017, then-Arsenal manager Arsène Wenger claimed that English referees' level "drops every season". The next season, Cardiff manager Neil Warnock despaired at how the "best league in the world" could possibly have "the worst officials".
Today, that story of perpetual decline has given way to one of full-blown crisis. Every week brings a new wave of anger – from fans, players, managers and pundits – about alleged errors, inconsistencies and incompetence. This is at the polite end of the spectrum. On social media, referees' mistakes are often blamed not on inevitable human error, or even simple ineptitude, but on elaborate conspiracies to derail this or that club. (The fact that every fanbase believes there is a conspiracy against their particular club does not seem to give people pause.)
There is no statistical evidence to support this story of decline. In fact, all such evidence suggests that referees are making fewer mistakes a match, with accuracy rising each season. (However, these statistics themselves are difficult to assess, given that they are collected not by a truly independent body, but by PGMOL and the Premier League, and very little of this data has ever been made public.) Instead, the critics point to a large, often indisputable, collection of individual errors and baffling decisions. These errors amount to only a tiny percentage of all decisions, but having been replayed and discussed over and over, they are the ones etched into memory.
Concern about the state of refereeing is not unique to England. Referees, players, pundits and team officials I spoke to in Norway, Turkey, Brazil, France and Switzerland assured me that in their countries, too, referees are perceived to be underperforming. "Today, every referee's decision is regularly challenged," Laura Georges, secretary general of the France Football Federation, told me. "It's hard for referees, because some of the people who are judging them don't even know the rules of football." Roberto Rosetti, the chief refereeing officer at Uefa, Europe's football governing body, said the criticism of referees is "maybe even worse" in continental Europe. He believes English referees are more highly regarded abroad than at home, because the detachment enables fans to judge their decisions more objectively.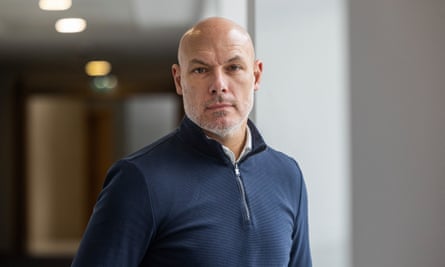 In the Premier League, this has been a season of transition. Four of the longest-serving referees retired last summer, and in June last year, after 13 years in charge, Mike Riley announced he will be stepping down as managing director of PGMOL. Riley's replacement, in the new role of chief refereeing officer, is Howard Webb, a well-respected former referee who reached the pinnacle of the profession when he refereed the finals of both the Champions League and the World Cup in 2010. Among the issues Webb will need to address is the lack of diversity in PGMOL. Apart from Uriah Rennie, who refereed in the Premier League between 1997 and 2008, no Black or Asian person has refereed an English top-flight match, and no woman ever has. "Refereeing is for all, and we are taking significant steps to create a broader pool of officials," Webb said recently. Last summer, the Premier League and PGMOL launched the Elite Refereeing Development Plan, which includes a specialist development group with eight officials from Black, Asian and minority ethnic backgrounds.
In January, when I had dinner with Webb, I asked whether he thought that refereeing standards had dropped. He insisted that they had actually improved over the past decade, but he still worried that standards hadn't kept pace with the increasing demands of the job. The laws are more complex and every decision is subject to ever-more scrutiny – more cameras, more replays, more analysis on TV, radio and social media. Meanwhile, the league gets more competitive every year. Teams obsess over "how they can gain marginal advantages by whatever means", said Webb. "And with that we're seeing more of the dark arts – things that are supposed to achieve a little advantage if you can get away with it. Therefore the officials need to be much better prepared themselves to deal with it. The days of a referee turning up and using your personality and the experience you've had from previous games have gone."
2. What it's like to be hated
---
One blustery August morning, in a hotel on the outskirts of Liverpool, Andre Marriner and his assistant referees were at the breakfast buffet. Just as Simon "Longy" Long, a former IT consultant from Cornwall, was losing patience with the conveyor toaster, which seemed to have swallowed his bread, Richard "Westy" West, a former police officer, returned with a round of frothy cappuccinos. "Get these down ya, lads," he said. The room was dingy, with sticky floors and the lingering aroma of stale alcohol. Electronic dance music emanated from the speakers. Banners advertised two-for-one deals on vodka shots before 5pm. It was only 10am, but one stag party was already capitalising on the offer. "Yeah," said Westy, "the other hotels are nicer than this". Marriner and Longy nodded in agreement.
Later that day, the three men would be officiating in front of 40,000 fans for Everton v Nottingham Forest at Goodison Park. Millions more around the world would watch on television. This was nothing new for Marriner who, at 52, is one England's most experienced referees. (There are no age limitations to refereeing in England, provided you pass the fitness tests.) Raised in a council house in Birmingham, Marriner started out refereeing for pocket money, and for years before he became a full-time official, he worked as a postman. He is tall and imposing, and known by his colleagues for his dry sense of humour and calmness. (These qualities have been known to desert him when he watches his son Oliver play football. Once, a few years ago, Marriner was told to leave the pitchside for mouthing off at the referee in an under-9s game.)
On the field, each referee has their own style. Whereas England is energetic and proactive, Marriner is more empathic and relaxed, preferring to let the game flow. ("The law book is just a framework," he likes to say.) Ahead of each season, he sets out his goals, and this time round, his 18th, it was simple. With 377 Premier League matches under his belt, he wanted to reach 400. Only two referees, Mike Dean and Martin Atkinson, had reached that milestone. Once he got there, Marriner would start to consider whether it was time to hang up his whistle.
Football refereeing is one of the toughest jobs in sport, and over the years, it takes its toll. "I can't think of any other job where there's this much scrutiny over decision-making. Maybe a surgeon?" said Marriner recently. On the pitch, referees are routinely booed, insulted, told to fuck off. Most referees have stories of crowd members throwing coins or bottles at them, of being spat at. At the top level, referees' family members can become targets. When I asked Marriner about the hardest parts of the job, he told me how Oliver, his son, would be picked on at school whenever he made a contentious decision. In 2021, after Mike Dean sent off a West Ham player, his daughter received death threats online. "They were saying they knew where we lived and they were going to petrol bomb the house," Dean told the BBC.
At the game's lower levels, referees have little protection. Sam Allison, who referees predominantly in Leagues One and Two, told me about instances of racial abuse he'd experienced – bananas being thrown on to the pitch, and fans shouting racial slurs. Allison, like several referees I spoke to, also mentioned how managers and players would come into his changing room to intimidate him: "You know when they're close, in your face, and you can feel their heat and even some of their saliva." Abuse is an even bigger problem at grassroots level. Last year the Merseyside Youth Football League cancelled a weekend of fixtures after "multiple incidents of inappropriate and threatening behaviour" towards officials, and in an amateur league in Lancashire, a referee was left with a broken nose, broken ribs and concussion after a player assaulted him on the pitch.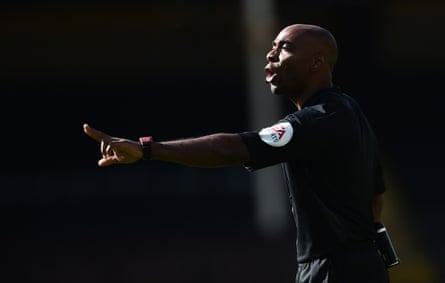 To get through the pressure of the job, officials are encouraged to think of themselves as the third team on the pitch. Just like any team, their success depends on camaraderie and support. Joining Marriner, Longy and Westy to officiate the Everton match was Jeremy Simpson, a former school teacher who referees in the Championship, the second tier of English football. Marriner and his team had chosen to address him as FKW – short for "full-kit wanker" – because he'd unwisely attended breakfast in his match-day uniform: Nike trainers, black trousers and a black T-shirt with fluorescent yellow sleeves. "Oh, you know you've made it when you're in the hotel looking like a motorway serviceman," he said, trying to shake it off.
By 11.30am, all four men had become FKWs, as they convened in a windowless room in the hotel for their pre-match meeting, a chance to go over the teams' expected lineups, formations and tactics. Marriner made a note to monitor one particular Everton player who, he said, was prone to simulation. "You're aware he's been caught before," Marriner told me, "so it's in your mind that you must ensure that there's sufficient contact for him to go down." Once they'd covered the essentials, they passed the remaining time by discussing Westy's family trip to London to see Beauty and the Beast. At one point, Marriner bemoaned how he's no longer appointed to big matches. "Years ago, I would get most of the golden games," he said. He was joking, but it was something he brought up more than once in our subsequent meetings.
One of Marriner's worst professional memories is from a golden game he officiated in 2011, Arsenal-Liverpool, when Arsène Wenger pursued him down the tunnel and into the referee's changing room after the match, to berate him for awarding a penalty against Arsenal in the 101st minute. ("Emotions were running high," Marriner recalled. "They'd just lost two points!") The Everton-Forest match turned out to be a much more sedate affair, which passed without incident and ended 1-1.
Marriner and his assistants were in good spirits an hour after the match, as they were led outside to the car, past the team dugouts, which were now populated by Everton players and their families. A few players nodded at them, but most went quiet, as if a teacher had entered the classroom. Then Conor Coady, one of Everton's centre-backs, turned to his two young children. "These are the referees," he said, pointing at Marriner. "And we don't like them … Boooooo!" As the toddlers responded by pointing and booing, too, the other players and their families laughed and joined in.
On the way back to the hotel, Westy assured me that this sort of behaviour was normal. "Referees are the pantomime villains," he said. "People think we get paid to turn up, ruin everyone's day, and fuck off, but they don't see all the work that we do."
---
The abuse, the pressure and the physical demands have all been part of refereeing for decades. What is new, and undoubtedly the biggest challenge for today's officials, is VAR. Since the 2019/20 season, the on-field referee has been supported by a video assistant referee, watching the match from a room in Stockley Park, a dreary west London business estate. (The 19 Premier League referees share VAR duties between them, rotating in and out of the role.) When they believe the on-field referee might have made a "clear and obvious error," the VAR can intervene.
Ever since it was introduced, VAR has been making people furious. At its most enjoyable, football is fast and charged with emotion. VAR, by contrast, can be agonisingly slow and joyless. Its presence makes it hard to enjoy a goal without worrying that it will be ruled out for some minor infraction that occurred 15 seconds earlier. Worst of all, VAR regularly fails to do the thing it was specifically introduced to do: prevent blatant errors. "My 12-year-old would be better than some of the decisions I've seen this season," said former player and pundit Danny Murphy recently.
According to some former officials, VAR has also lowered the standard of on-field refereeing. Urs Meier, a retired Swiss football referee who officiated at the 1998 and 2002 World Cups, told me that it has made referees complacent, leading them to dodge big decisions and neglect the basics, such as positioning. When I brought this up with Darren England, he admitted that it is a concern. "It's like everybody knows now that you've got a second chance to get the decision right," he said.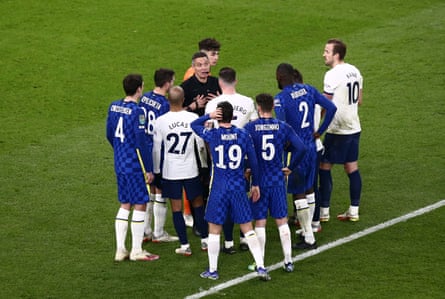 Roberto Rosetti, Uefa's refereeing chief, believes that the root of these problems lies not in the technology itself, but in how it's being implemented. VAR was introduced to "delete the scandals, the clear mistakes of the referees", such as the infamous Thierry Henry handball that denied Ireland a place at the 2010 World Cup. Too often, said Rosetti, it's being used to "investigate every single detail" of matches. Using VAR in this way is "dangerous", he continued, because good refereeing means accounting for the "spirit of the game", which technology cannot do. Once, when Rosetti experimented with using VAR to review every incident in a single match, he found seven penalties and three red cards, according to a strict reading of the laws of the game. "But this is not football," he said.
This doesn't mean that video-review technology has no place in the game, but it requires us to define the line of intervention. "If the mistake is clear and obvious," Rosetti told me emphatically, "you shouldn't have to watch it 25 times." When I mentioned this to England, he agreed. "Yes, almost all the wrong decisions nowadays are from VAR, because that's where there's the most pressure," he said. "We talk about VAR as if it's this supercomputer, but we have to remember that it's still a human being behind that screen making a decision."
4. In the VAR hotseat
---
One morning earlier this year, I joined England at PGMOL's VAR hub at Stockley Park. The VAR room is large, and with its windowless walls, dimmed lighting and ergonomic chairs, it looks a bit like a presidential war room. There are 10 individual VAR stations, each with three seats, so multiple matches can be VAR'd at the same time. During the match, the VAR sits in the middle, with an assistant on the left and a replay operator on the right. A screen in front of each seat plays a live feed of the match, and a second screen shows it from four different camera angles. If the VAR identifies what they believe might be a clear and obvious error, they press a red button, which opens up a channel with the referee, to instruct them to pause to allow for a check.
At that point, things become difficult. The obvious challenge with VAR is the time pressure. Depending on the game, VARs have a minimum 12 angles to choose from, and they can each be played at different speeds. But for players and fans, a pause of even a minute, while the VAR deliberates, can feel endless. (In its first season, VAR once took 3min 45sec to rule out a goal by Sheffield United.) And the longer it takes, the more pressure there is to get it right.
At Stockley Park, what struck me most forcefully was the silence. The feeds that the VAR team watch do not have commentary or crowd noises. This should make the decision-making more objective. But it can also make it harder to reach a decision. On the pitch, "you can sense from the players whether you've got things right, you can read the game," England said. "Whereas here, you're looking at something that in your head is a clear and obvious error, but until you leave this building you don't know whether it's clear and obvious or not. It's not like you have a magic ask-the-audience button."
Precision takes time, and under pressure, it's easy to overthink. "The difficulty is that you can go down a rabbit hole of looking for something that isn't there," said Paul Russell, PGMOL's resident psychologist. In VAR's first season in US Major League Soccer, where Howard Webb worked before returning to the Premier League, one referee looked at the same clip from the same angle 32 times. "It's like, 'what are you doing?" Webb said to me. "People become afraid of missing things and they're trying to second-guess what the bigger world will think."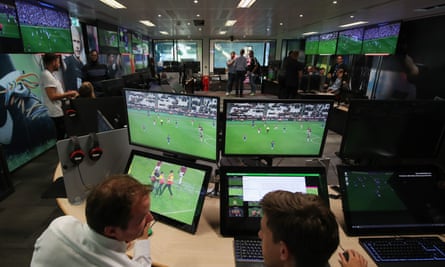 "I think people have to be patient with VAR," said Laura Georges from the France Football Federation. "It takes time for the referees to get used to it." This is Rosetti's view, too. VAR is a totally different job to on-field refereeing, he told me. One involves managing 22 highly strung athletes in front of a volatile crowd; the other takes place in a small, silent room. One is instinctual; the other analytical. On-field referees have only one view of any incident; VARs "have to play with cameras, with speed, with point of contact". Therefore, "top, top referees in Europe are not necessarily good VARs," said Rosetti.
In the future, Rosetti believes, there will be specialist VARs, just as we have specialist assistant referees. Italy and Spain have launched VAR courses to train new or returning referees to become specialist VARs. Over dinner, Webb told me that he is looking at doing something similar in the Premier League. Webb nodded when I recalled Rosetti's remarks on the line of intervention, and the need to understand the game beyond simply learning the rulebook off by heart. "Good refereeing starts on the field," Webb told me. "You've got to know the game and smell the game. We don't want robots. We've got whistles and we've got personalities and the top referees use them well."
5. Splitting the room
---
A few months before visit to the VAR hub, I had headed to St George's Park, where Premier League referees and assistants gather every fortnight for two days of training. This time round, the camp would be focusing on VAR. "It's about trying to bank up the incidents so there is a standard of when to interfere," Marriner told me. "Because VAR is new to us, we're learning ourselves."
When I arrived, England was on an exercise bike in the gym upstairs, Marriner was deadlifting and Michael Oliver was doing dumbbell curls. One by one, they disappeared to a side room for body composition assessments, before making their way to the lobby of the onsite hotel for some leisure time. The mood was relaxed, the officials drinking tea, chatting, playing table tennis and pool. Some scheduled a mental resilience session with Paul Russell, the psychologist; others used the time to do 90-minute match reviews with Martin Atkinson, dissecting key incidents on their laptops.
After lunch, the officials were split into groups for VAR workshops. The most interesting session was the Penalty Area Incident Survey, led by Neil Swarbrick, PGMOL's VAR Manager, and Phil Bentham, an experienced rugby league referee who was hired by PGMOL as a VAR coach last summer. Dimming the conference room lights, Swarbrick played 10 clips of penalty appeals from the German Bundesliga, which a group of 49 Premier League referees, assistants and coaches had been sent in advance, and on which they had already filed their verdicts. After each clip, the group discussed whether there was sufficient grounds for a VAR intervention. Then, finally, it was finally revealed how everyone had voted.
"We have to think about what is the threshold of clear and obvious," said Adam Gale-Watts, the director of the Select Group, standing up to address the room. "Remember, we are not refereeing from Stockley Park."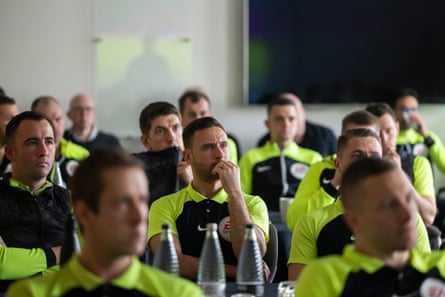 In several of the clips, everyone agreed that the answer was obvious. But that wasn't always the case. In one clip, the attacker had fallen theatrically over the defender's leg and no penalty had been awarded. The question was whether VAR should have stepped in.
"So, what are the drivers for intervention?" Swarbrick asked the group.
"Well, the defender leads with the wrong foot," responded referee Craig Pawson, making the case for VAR intervention.
"But the way the attacker falls, he is already going down," said referee Stuart Atwell. "He has gone down cheaply. When the contact is made, he is already going down!"
"Yes, but the defender has stepped on his foot. That's got to be a foul," responded Pawson, sharply.
Others in the room muttered quietly between themselves. As it turned out, most of them agreed with Pawson. On this particular clip, 43 of the 49 respondents had said they would have stepped in. A strong majority, but one that still left six dissenting judgments, each of which could have cost a team three points; each of which would have upset tens of thousands of fans.
On another clip, the group had been much more divided. These were some of the best referees in world football, with decades of experience, and even after seeing the incident multiple times from multiple angles, they couldn't agree about what was clear and obvious. The moment that the results were announced, the room laughed. It was 26:23.
"There will always be situations where you are going to split rooms," Swarbrick said. "All we can strive for is consistency across a single game."
6. Preparation, pressure, penalties
---
As with players, a referee's form fluctuates over the course of a season. "Sometimes you'll see the ball like a beach ball, but sometimes it'll look like a golf ball," England told me. When referees lose their confidence, they can start to second-guess themselves, seeing physical contact that isn't really there. (Football referees in the US are told not to make big decisions like penalties and red cards unless they "slap" them in the face.)
It is the mental side of the job that, at the highest level, makes it so hard. There are the obvious pressures on the referee, like the reactions of players. "If there's a 50-50 ball and you have to decide, with one player shouting, the other not, who are you going to give it to?" Marriner told me. "It's human nature." Then there is the crowd, which in football, as in almost every sport, gives an advantage to the home team. On the way home from a recent match, Marriner recalled how, in 2013, he'd awarded a soft stoppage time penalty to Chelsea when one of their players went down in the box. The reaction of the opponents instantly told him he'd made a mistake. The Stamford Bridge crowd had got to him and he had made the decision too quickly. "I was praying they were going to miss!" he said. (They scored.)
In his book, Blowing the Whistle: The Psychology of Football Refereeing, Stuart Carrington writes that referees are about 40% more likely to show a yellow card to the away team than the home team, based on a study that reviewed data from more than 5,000 Premier League fixtures between 1992 and 2005. One possible reason for this discrepancy is the referee's tendency to appease the home crowd, a form of what scholars call "social bias". A 2016 paper suggested that the context of the game, including the time left to play, can also affect decisions. Some referees, particularly those with less experience, seem to become passive as the match nears its conclusion, aware that their decisions are more likely to decide the outcome. This is known as "omission bias".
Being conscious of all these cognitive biases does not always prevent errors. In 2009, during a Champions League semi-final between Chelsea and Barcelona, the Norwegian referee Tom Henning Øvrebø waved away four strong Chelsea penalty appeals. After the match, Chelsea's manager, Guus Hiddink, described it as the worst refereeing performance he had ever seen. When we spoke over Zoom recently, Øvrebø told me that he should have awarded at least one penalty. He had been so focused on not being fooled by the home team that he wasn't analysing decisions fairly. "Sometimes you are so concerned about not being influenced that in a way you are influenced," he said.
The bigger the games he officiates, the more familiar England becomes with these pressures. He had started the season slowly. In his first match, he'd wrongly awarded a penalty, before reversing the decision on the recommendation of VAR. This error had earned him a one-match demotion to the Championship. Then, in the Fulham match I'd attended, he'd initially missed the Chalobah red card. But by early November, he had found his stride. He'd been appointed to referee three matches in quick succession, a sign that his bosses were happy.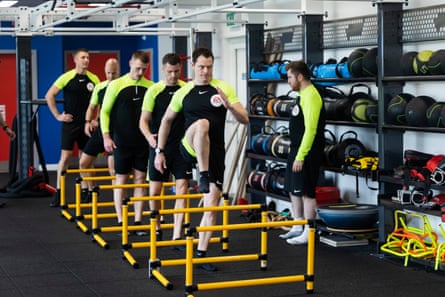 On the next day I spent with England, 5 November, he was refereeing the champions, Manchester City, at home to Fulham. In a room at a swanky hotel on the outskirts of Manchester, England and his team gathered for their pre-match meeting. His usual assistants had been replaced, because they support Manchester clubs. (Every official must declare their allegiances, and will not be assigned that team's matches or those of their closest rivals. Other factors that determine appointments include how many times an official has refereed each club that season, how close they live to the stadium, and which teams their family members support.)
In preparation for each match, a team of PGMOL data analysts provides the referee with useful details: whether the goalkeepers tend to play out from the back or go long, which players are regularly involved in tight offsides, and so on. England likes to request a montage of each team's corners and other set-pieces, and he uses pre-match meetings to recap his key takeaways. For City, on this occasion, England had noted that if the regular set piece-taker Kevin De Bruyne isn't taking the corner, the ball often finds its way to him near the edge of the box via a sequence of short passes. At that point, De Bruyne will proceed to cross the ball into the box or shoot. In those cases, England would need to reposition himself. "I need to be behind him as he takes that shot," he told me. "If you're not ready for that, you're on the back foot."
The match started smoothly, with City seemingly cruising to victory after an early goal. But in the 26th minute, City's João Cancelo barged into a Fulham player, who was in the penalty area and through on goal. England blew his whistle and pointed to the penalty spot, staring at it for a moment to compose himself and think through his next decision: whether or not to send off Cancelo. Russell, the PGMOL psychologist, calls this moment the "golden second". "If referees allow the pace of their decision-making to be dictated by everything that goes on, they're going to fail," he told me. "It's your responsibility to find that golden second. Because football will try to take it off you."
The challenge would warrant a sending off if Cancelo had made no attempt to play the ball; otherwise it was simply a caution. England reached into his pocket and took out his red card. Fulham scored the penalty, making it 1-1. City would have to play 65 minutes with 10 men. The skies darkened and it started to rain. The pressure on England grew with every passing minute. Every decision seemed to go against City. Boos rang around the stadium. "You're not fit to referee," the home fans chanted. The noise was deafening. On Twitter, City fans called for England to be banned from the stadium, threatened to slash his tyres and hoped that he'd crash on his way home.
On the pitch, the City players, angry about the sending off, grew increasingly aggressive toward England, occasionally surrounding him, hoping to intimidate and influence him. This is one of the biggest tests for elite referees. If you're unable to manage the players, the match can "quickly unravel", Russell told me. Referees must learn to identify which players they can talk to in order to calm things down. (Marriner mentioned Kevin De Bruyne as someone who is "very approachable" in such moments.) "A referee needs to be a good psychologist," writes Pierluigi Collina, perhaps the most respected referee in history, in his autobiography. The best referees act early. "Everyone can recognise a player when they're up there," said Russell, waving his arms around to indicate a player hitting boiling point. "But the smart ones will know when it's simmering."
Just as the match was reaching its conclusion, in the 95th minute, a Fulham defender, visibly weary, made slight contact with City's De Bruyne inside the box. De Bruyne collapsed as if he'd been shot by a sniper. All eyes turned to England. He blew his whistle. The home crowd erupted with joy. It was the softest of penalties, and I found it impossible to imagine that the City players and the home crowd hadn't helped will it into existence. Haaland converted the penalty with the last kick of the game: 2-1 City.
"Ey, there's some nice words about you on Twitter, here," one of England's assistants said sarcastically, as we boarded the van back to the hotel. England seemed rattled and mentally exhausted. I was supposed to join him in the car home, but he suggested that we do it another time. A few miles outside Doncaster, he stopped to buy hotdog buns for dinner. Later that evening, he headed to a Bonfire Night with his family: sparklers, fireworks and toffee apples.
7. Refereeing the refs
---
A couple of days later, I drove over to see England at home. He is a relentless self-improver, and he'd scheduled some short sprints and mobility exercises on some muddy football pitches behind his house in preparation for a midweek Carabao Cup game. As he does most Mondays, he would spend his afternoon watching a rerun of his latest performance, diligently making notes on his positioning, his decisions and his management of the match.
England grew up in Barnsley, a mining town in northern England, and passed his basic refereeing training course at 15, as his hopes of a playing career faded. By the age of 18, refereeing was his focus. He rose quickly through the seven tiers of refereeing, eventually becoming an assistant referee for Michael Oliver. But when he was 28, he decided to give it up to pursue a career in the middle of the pitch. It was a huge gamble. Restarting at the lower levels of the refereeing pyramid, where referees are paid less than £100 a match, his income fell dramatically. But within five years, he was back in the Premier League.
England seemed happy when I arrived. He'd dropped his daughters off at school and was washing his kit. His mood caught me off guard, as his performance in both the City match and as VAR in the Spurs-Liverpool match the next day had been the subject of much criticism. But he seemed unfazed. He was expecting largely positive assessments in his post-match reports from PGMOL, which referees receive via email a few days after the game.
Since the 2012/13 season, PGMOL has been evaluating its Select Group referees solely through analysis of match footage. Instead of travelling to games, as they once did, an anonymous analyst watches a silent video recording of the match, breaking it down into hundreds of discrete decisions, from corner kicks to last-minute penalties, and judges each as either incorrect or correct. An evaluator, normally a former referee, checks each decision and labels each one as "Expected", "Non Routine", or "Difficult".
Once the referee has given their input, the report is sent to the Independent Panel, a judging body introduced this season, comprising an anonymous group of three former players and managers, plus one Premier League representative and one from PGMOL, who make sure that the labelling of each key match decision is accurate. Marks are awarded or deducted for each decision, but the number of marks depends on the type of decision, where it occurred on the pitch and its difficulty. A few days later a final report is issued to the referee, which includes their overall mark and a percentage accuracy score. This is what decides their place on the refereeing merit table.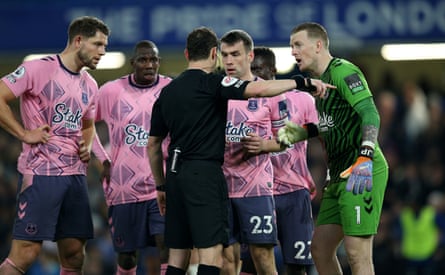 To many referees, this evaluation system – conducted by assessors in a quietened room without any feel for the intensity and tempo of the match – is inadequate, because it overlooks much of what actually makes a good refereeing performance good. (Tellingly, Fifa and Uefa's system is based on the assessment of evaluators who attend the games.) When I brought this up with Howard Webb, he told me the evaluation system is under review. "The game throws up this whole range of situations that are not necessarily black or white, but require some level of interpretation," he said. "Can you truly do that when you're not actually in the stadium? Probably not."
This ability to tailor your approach to the demands of each match is, for many referees, the key human element of the job, and something that is rarely appreciated by fans. Sometimes the referee will try to intervene as little as possible; in other matches, a stronger line might be required. A referee must understand "how to change his own scale of values to adapt to events", writes Collina. In my conversations with England, he echoed this view, referring to a third category of decisions beyond just right and wrong – "wrong that's right for the game". Some take this further than others. In his autobiography, former referee Mark Clattenburg recalls how, in the 2016 Champions League Final, he awarded a soft penalty to Atletico Madrid to even up the game after he and his assistants had missed an offside and mistakenly awarded Real Madrid an opening goal. "In terms of game management, me awarding Atletico a penalty evened things out in the minds of their players," he wrote. "They would be easier to control after that."
I began to understand referees' grievances with the evaluation system when I went through a report with Marriner, in which he'd been penalised for failing to caution Tottenham Hotspur's Cristian Romero for a foul. In isolation, it was a clear yellow card, but Marriner believed he might have made the right call for the good of the match. The Spurs players "didn't even think it was a free-kick", he said. "I would have lost control if I'd given a yellow!" To the evaluators, this was irrelevant, and Marriner was left with a percentage accuracy of 97%, his lowest of the season.
For referees, what makes the current system so frustrating is that losing cheap marks can affect a referee's position in the merit table. This in turn affects what games they're appointed to and how much money they earn. To be in contention for the golden games, referees need to keep their numbers up. "You know you're doing well if you're getting the good games," Marriner told me. "If not, you know you're on the naughty bus!"
8. New start, same problems
---
By January, after a faltering first half of the season, the conversation around Premier League refereeing had become a little more optimistic. Webb's arrival seemed like an opportunity for a new start. Pundits applauded his willingness to engage with the media, and there was positive news on diversity, with the debut of the Premier League's first Sikh assistant referee, Bhupinder Singh Gill. Referees seemed happier, too. In one pre-match meeting I attended, Marriner and his team spent 15 minutes swooning over a recent Sky Sports interview with Webb, where he explained the thinking behind some of the recent controversial decisions. "It's just brilliant, isn't it?" Marriner said. "How many times have stories rolled on and on for days and nobody has come out and given a definitive answer?" No more, he hoped.
By this point in my reporting, having spent so much time with referees, gaining a better sense of the sheer difficulty of their job, I had come to think of most of complaints about them as either unfair or just incorrect. But then came the weekend of 11 February, and two inexcusable VAR errors: in one case, the VAR had drawn offside lines in the wrong place, and in the other, they had forgotten to place the lines altogether. Once again, everyone was united in outrage at these failures. The following week, Webb called a crisis meeting at Stockley Park and Lee Mason, responsible for one of these errors, subsequently left the Select Group by mutual consent. A fortnight later, after he'd missed a blatant red card in the FA Cup, Neil Swarbrick, PGMOL's VAR Manager, confirmed that he would be retiring at the end of the season.
These kinds of incontestable errors understandably infuriate fans, but they are rare. The feeling of anger and dissatisfaction that hangs over top-flight refereeing has much more to do with the much larger pool of controversial decisions that lie in the murkier realm of subjectivity – the kinds of decisions that split the room on my visit to the training camp at St George's Park. VAR can be better – and it's worth noting that it correctly overturned 42 incidents in the first half of the season – but what it will never be able to deliver is a world in which everyone agrees on decisions that are inherently subjective.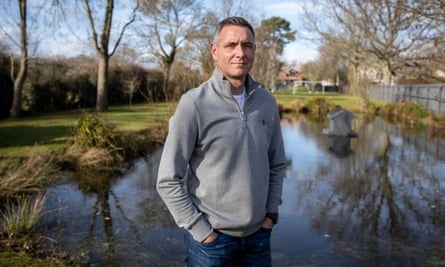 In a 2019 paper, Seth Bordner, a philosopher at the University of Alabama, argued that inconsistency in football officiating is the price we pay to make the game more enjoyable. If we wanted to have consistency across football officiating, we could, in theory, draft the laws in a way that eradicates subjectivity. We could decide that if player A touches player B and doesn't touch the ball then it's always a foul. That is a question of fact. But once we are talking about whether a tackle is "reckless", as the laws currently do, then we are in the realm of subjectivity. And once there is subjectivity, there will never be perfect consistency. One tackle that referee A sees as reckless, and therefore warranting a yellow card, referee B might not.
So, do we want to protect the spirit of the game or do we want consistency at all costs? This is a harder question than it looks. In January 2016, BBC pundit Gary Lineker tweeted that the handball law should be changed so that every time the ball strikes a hand or arm it's a free kick or penalty "regardless of intent". He wanted consistency. When the laws were changed to this effect, leading to numerous penalties that struck most observers as absurd or unfair, Lineker tweeted again: "Ludicrous, utterly ludicrous law exacerbated by VAR. Can we have our game back please?"
Partly because of technology like VAR, "there is a tendency to think of the games as perfectable," writes Bordner, but unless we radically change the rules, this will remain a fantasy. When I brought this up with Rosetti, he chuckled as if I'd just stumbled upon the meaning of life. "Perfection in football doesn't exist," he said. "Technology works well for factual decisions. With Hawk-Eye in tennis, the ball is in or out. It cannot be maybe in. But football is a game of physical contacts. There is always some kind of subjective evaluation, and that's why it's so difficult."
9. The moments that make it
---
One Saturday in early February, I caught the train to watch Marriner referee Manchester United at home to Crystal Palace. It was only his eighth Premier League appointment of the season, because he had been recovering from a thigh injury. It turned out to be a rough afternoon for him. In the opening stages, he missed a United penalty, and had to change his decision on the recommendation of VAR. Later, after another VAR review, he sent off United midfielder Casemiro for violent conduct when a scuffle broke out involving players from both teams. United won the game, but Marriner found himself in the firing line. Why had Casemiro been singled out for disciplinary action? "I think it was bad refereeing, it was bad handling, and to say it was terrible what Casemiro did, then you've never been in a bust-up in English football," said former Norwegian player Jan Åge Fjørtoft on ESPN.
After the match I joined Marriner in the changing room, where he was eating a burger and explaining to Iffy Onuora, the delegate assigned to prepare a refereeing performance evaluation on behalf of the Premier League, why he thought it was a red card. "In the images that are shown to me, I'm looking at another player grabbing another player with two hands round the throat," Marriner said, as calm as ever. "I don't know how much pressure is being applied, but the pictures are there for everyone to see. That's an act of violent conduct."
Shortly after, we left the stadium through the same gate as the teams, where thousands of jubilant fans had gathered in hope of a selfie with one of their heroes. They greeted each United player with a loud cheer, screaming their names, but as Marriner stepped out, the mood changed. Suddenly there was booing. "Fuck off ref," yelled a young fan wearing a United shirt. I smiled at Marriner and he just laughed.
Recently, Marriner's son, Oliver, has taken up refereeing. A few days after the United match, I visited Marriner at his home, a farmhouse a few miles south of Birmingham. Miniature ponies and pigs milled around in the fields behind the house, where I could spot a dozen official Premier League match balls that now belong to Oliver. When I sat down with Marriner and his wife, Lisa, they told me about how nervous they were for him to follow his father's path. "I used to watch Andre referee at grassroots level," Lisa told me. "It was scary sometimes watching him, but watching my own son do it is even scarier!" Not for the first time, it made me wonder why Marriner, or in fact anybody, would actually want to do this job. Referees experience many of the downsides of being a top footballer – endless stress, abuse, pressure – with none of the obvious satisfactions: the adulation, the money, the glory.
Yet as Marriner gave me a tour of his home, he started to speak about his career with a palpable warmth. In the domestic game, he has achieved almost everything there is to achieve. He showed me his kits from the FA Cup Final, the most prestigious domestic match for a referee, and the League Cup final, which he officiated in 2017. He reminisced about the greatest players he'd seen up close – Messi, Ronaldo, Bergkamp – and the best goals he's seen, like Olivier Giroud's scorpion kick against Crystal Palace in 2017. "It's allowed me to travel all over the world, see different countries and different styles of football and living," Marriner said. "It's fairytale stuff."
Other referees, when I asked why they do what they do, spoke about the camaraderie between the officials. "Refereeing is a community all of its own," Abbas Khan, an assistant referee in Leagues One and Two told me. Abi Byrne, a referee in the women's super league, spoke of the sheer joy of sharing a pitch with the best players in the world. Others spoke like craftsmen, taking pride in having mastered all the little skills needed to do a hard job well. For England, there was the particular satisfaction of playing an advantage that leads to a goal. ("It's as good as an assist," he told me.)
For Sam Allison, the League One and Two referee, the answer to my question was simple. "I don't think there's any football referee out there who doesn't love football," he said. Many referees are former players or coaches. Allison himself played for England under-18s. "When you're in that hotseat," he said, "you're out there on the pitch, and you're in zone, and passes are zinging away, and then a ball gets struck by a player as clean as a whistle and it goes in the top bins and the crowd goes berserk – you feel it inside, you feel the vibration, your hairs stand up."
When I put the same question to Marriner, he responded with a memory. The moment came on 12 February 2011, in the 78th minute of the Manchester derby at Old Trafford, the game poised at 1-1. As the United attacker Nani crossed the ball into the box, it took a slight deflection, sending it slightly behind Wayne Rooney. From nowhere, Rooney leapt into the air for a bicycle kick. Marriner has replayed this moment, his favourite in a long career, a thousand times. The collective gasp as Rooney rose, his back turned to the Stretford End. The split-second of silence before the ball hit the back of the net. The eruption of the crowd a moment later. "Being on the pitch for moments like that," Marriner said with a smile. "There's really nothing else like it."
In the video of the goal, you can see Marriner in the corner of the frame. He walks away calmly, betraying no emotion. As the camera follows Rooney's euphoric celebrations, Marriner disappears from view. In that brief moment, the happiest of his career, he is invisible, with absolutely nothing to do.