Situated in the heart of Chelsea, King's Road is a hive of activity for locals and visitors alike, filled with wonderful shops, restaurants and bars. Let's explore.
Words by Sam Jeans
King's Road has quite the reputation to match its regal namesake. 
Whether you're looking to grab a coffee, treat or dinner, indulge in some shopping or enjoy a boozy night out, this stretch of road in Chelsea is the eclectic London destination you need to explore. 
Have no fear – in this guide, we'll uncover the best things to do in King's Road, from the world-renowned Saatchi Gallery to the top floral spots, as well as plenty of charming cafes, restaurants and bars. 
Ready?
Brilliant Things to do on King's Road
Visit the Saatchi Gallery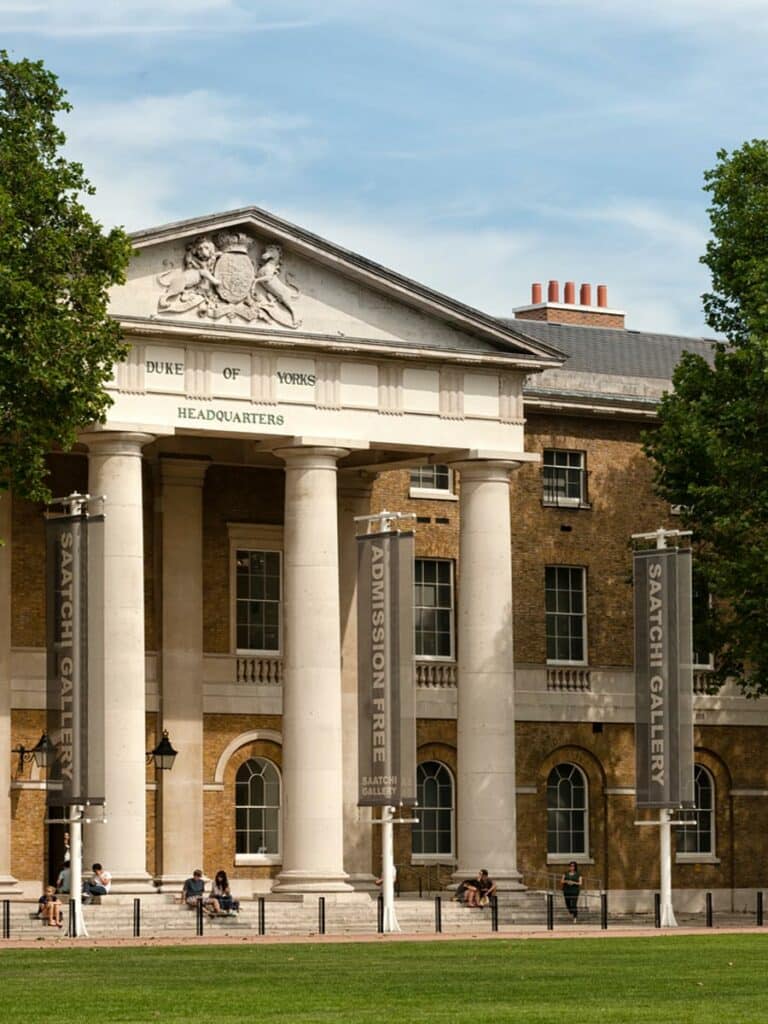 The fantastic Saatchi Gallery is a contemporary art gallery located just off King's Road, towards the top, near the Duke of York Square. 
Established in 1985, the gallery showcases the work of cutting-edge emerging contemporary artists from around the world and established artists pushing the boundaries of their craft. 
Better yet, admission is free. 
Take a Stroll in Chelsea Physic Garden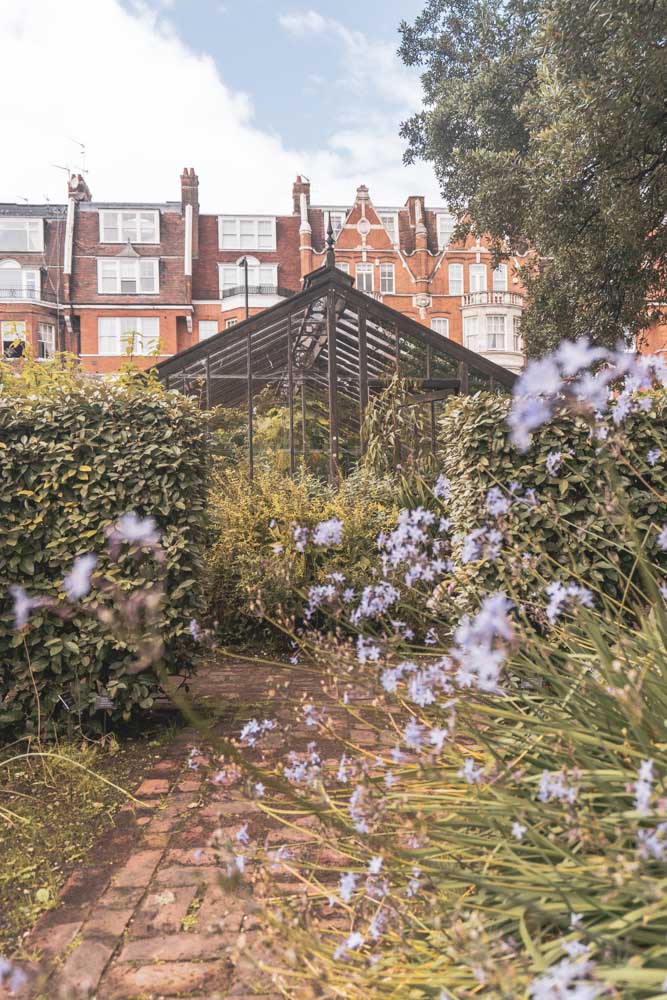 Granted, the Chelsea Psychic Garden isn't actually on King's Road but a few minutes south next to the Thames. 
This botanical garden is steeped in history, first established as the Apothecaries Garden in 1673.
The garden's goal was to grow medicinal plants and herbs, and it retains much of its heritage today, home to 5,000 species of plants from around the world. It's the perfect place to pause from the hustle and bustle of the King's Road. 
The garden hosts regular events, including gardening workshops and supper clubs. Head through the garden to the south towards the Chelsea Embankment, and you'll find sublime views of Battersea Park and the London Peace Pagoda. 
Enjoy a Film at Everyman Chelsea
There are a few Everyman cinemas scattered throughout the city, but the Everyman Chelsea cinema is one of the finest, with exquisite decor, armchair seats, to-your-seat waiter service and a fancy bar. 
The service is impeccable, and the seats…you'll really struggle with standard cinema seats after experiencing them. 
Go Shopping at Duke of York Square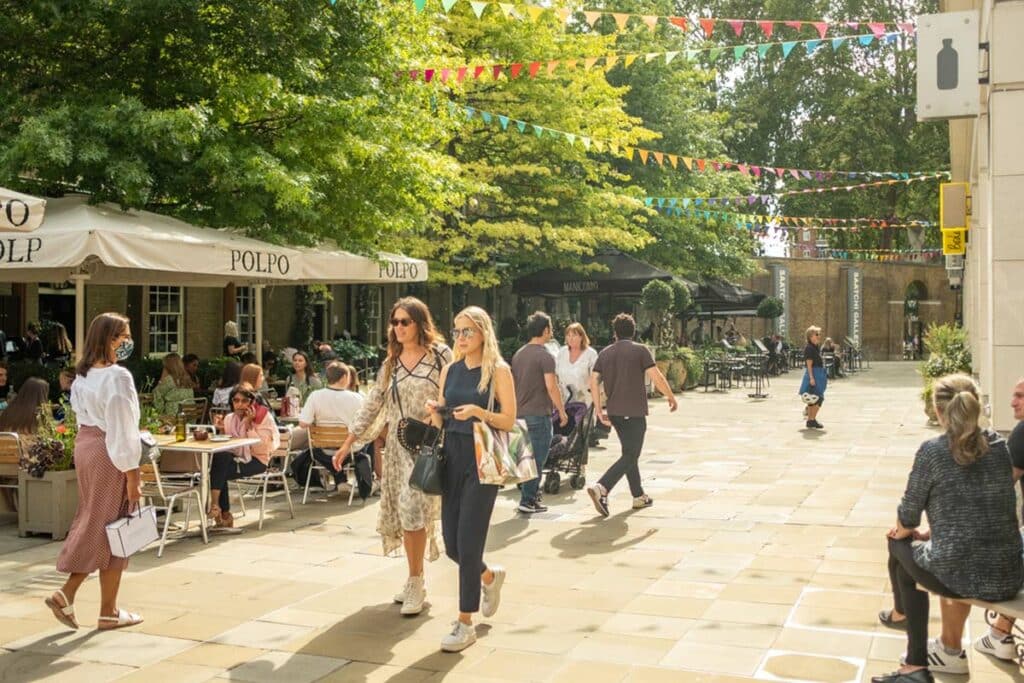 Duke of York Square is a shopping destination packed full of high-end fashion and beauty brands, independent shops and a wide variety of snazzy restaurants and food stores. 
It's a stunning area and absolutely perfect for whiling away some hours shopping or window shopping, sipping coffees and generally living it up the Chelsea way. 
King's Road restaurants are all of very high standard, which you might expect given the area, and many can be found lining the square. Our top pick? Head to the coveted Vardo cafe, bar and restaurant at the centre of the square. 
Visit the Chelsea Old Town Hall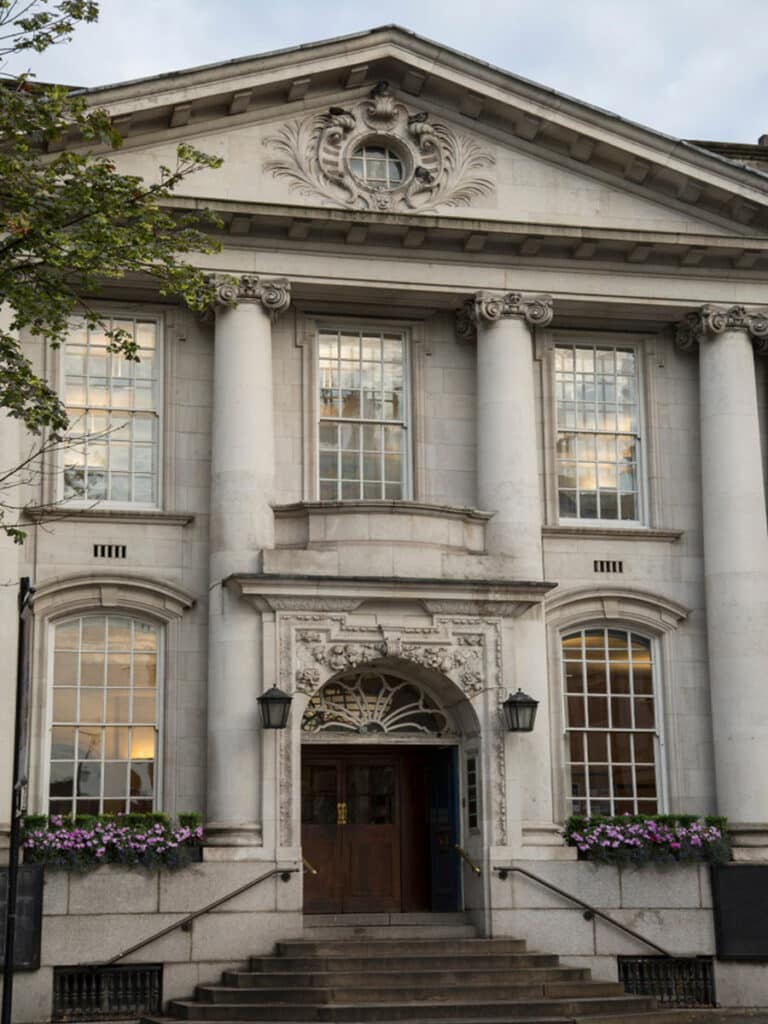 It's pretty clear that King's Road in Chelsea is a historic part of the city. In fact, the road is named such as it used to be the King's private road. 
The Chelsea Old Town Hall is a beautiful Victorian building that's been a landmark of King's Road for over 100 years. 
Today, it's an events venue, hosting everything from weddings and conferences to fashion shows and art exhibitions. It's certainly worth a visit just to admire the stunning architecture and soak up the history of the building.
Peek Inside World's End Nursery
There aren't many capital cities where you find garden centres nestled between some of the busiest areas. But this is London. And World's End Nursery is a charming garden centre located on World's End Place, just off King's Road. 
The nursery specialises in various plants, from herbs and vegetables to exotic flowers and trees. They also sell a superb selection of gardening tools, pots and other accessories. 
The staff are knowledgeable and friendly, and always happy to offer gardening and plant care advice. So whether you're already one of London's many gardening enthusiasts or just starting out, World's End Nursery is a great place to find inspiration. 
Swing by the Chelsea Funhouse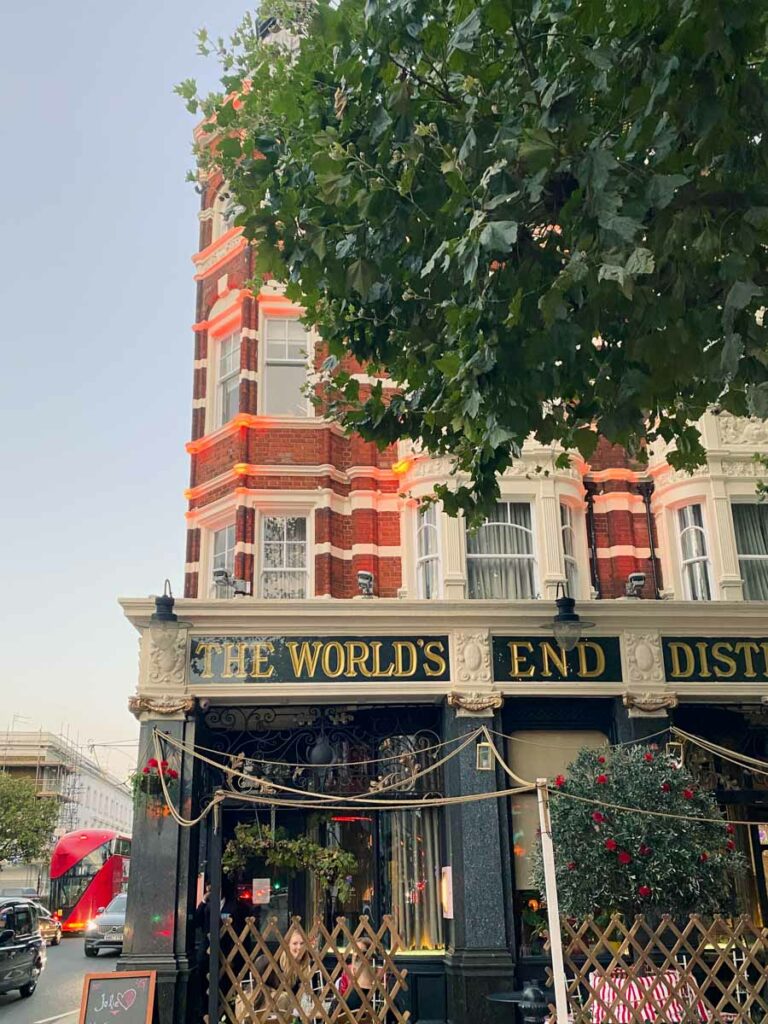 Fun by name, fun by nature, the Chelsea Funhouse has three floors of drinks, food and dancing. 
They're mad about espresso martinis, with some 15 variations of the classic on the cocktail menu. One of the bars, The Bletchley, blends an immersive escape room-esque experience with cocktails and has won tons of awards. Definitely one of the best cocktail bars in London. 
All in all, the Chelsea Funhouse is a real experience that goes way beyond your typical cocktail bar experience. 
Time Your Visit for Chelsea in Bloom 
Chelsea's love affair with flowers and plants is well-established, with the annual Chelsea Flower Show and Chelsea in Bloom, which transforms the local neighbourhood with tremendous floral installations. 
Chelsea in Bloom is a floral extravaganza with spectacular displays on the streets of Chelsea, including King's Road. It takes place in May each year, though the exact date changes.
The Best King's Road Restaurants + Cafes:
Peggy Porschen
Just beyond the King's Road is Peggy Porschen, a picture-perfect cafe that's become an Instagram sensation thanks to its stunning pink floral façade and delectable cupcakes.  
But this cafe has much more than just a pretty face – the cakes, cookies and pastries are all freshly made and taste as good as they look. Plus, you'll find a lovely outdoor seating area to enjoy treats in the sunshine.
Mestizo
For truly authentic Mexican cuisine, head to Mestizo, a vibrant restaurant towards the top of  King's Road. 
The restaurant specialises in faithfully created traditional dishes like enchiladas, nachos and tacos, and desserts like churros and flan. To kick the evening off in style, there's also a superb range of cocktails and tequila-based drinks. 
Azteca
Mestizo isn't the only Mexican restaurant on the block – Azteca is a quintessential Mexican cantina with live music, cocktails and decadent Cuban cigars if that takes your fancy. 
The compact menu features classic Mexican dishes like nachos, burritos, fajitas and tequila – lots of tequila. Even if you don't like tequila, there's probably a tequila drink here that'll win you over (challenge accepted?). 
Azteca's décor is rustic and charming, with exposed brick walls and quirky artwork – a wonderful venue for drinking, eating and chilling.
Bluebird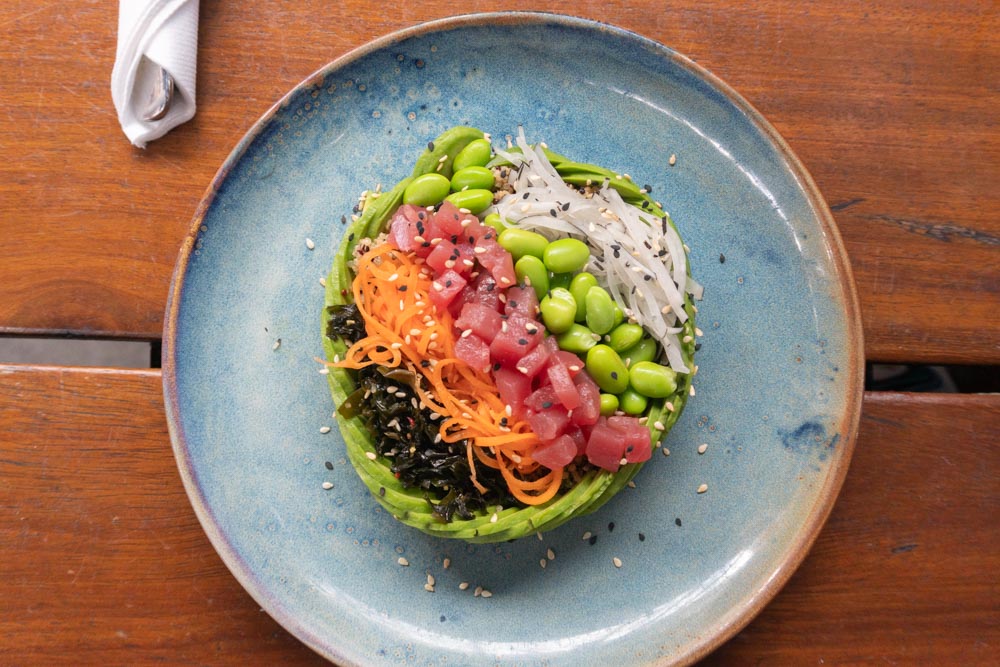 Bluebird is an upmarket restaurant serving fresh, modern European food. The restaurant has a chic, modern interior with a buzzing atmosphere. 
The wine and drinks list is incredibly long, and the menu showcases a great variety of meat and veg dishes. It's the perfect spot for a leisurely brunch, romantic dinner, food with the family or a night out with friends.
Granger & Co.
Granger & Co. is a highly successful cafe chain – their Chelsea venue can be found on Pavilion Road, just off King's Road. 
Granger & Co. is renowned for its healthy and flavorful dishes, like ricotta hotcakes, parmesan crumbed chicken schnitzel and healthy bowls. They're open for breakfast, lunch and dinner. 
Manicomio
Manicomio is a stylish Italian restaurant located on Duke of York Square, at the top of King's Road. It's super-stylish but pretty laid back, with an authentic menu and stacked wine list – chianti in Chelsea, anyone?
The restaurant serves classic Italian dishes like antipasti, pasta and secondi (main courses). Better yet, it has a delightful terrace out the front for al fresco dining in the heart of King's Road. 
Vardo
Vardo is a popular restaurant and bar located at the centre of Duke of York Square, in the creatively-designed white building you can't miss. It's trendy and relaxed, with a sublime spot at the centre of the square, perfect for soaking up the Chelsea atmosphere. 
The menu features mouth-watering sourdough pizzas, grilled meats, grains and rice bowls, as well as loads of super-healthy vegetarian and vegan options. 
Vardo has put a lot of work into this awesome little restaurant, and it's pretty roomy outside, which is where you want to be on sunny days and warm nights. 
The Best King's Road Bars
The Ivy Chelsea Garden
The Ivy Chelsea Garden is simply magnificent, with a main restaurant, extensive terrace, orangery and garden. The interior is almost ethereal, with maximalist design and plenty of nods to Chelsea's floral heritage. 
The food is delish, but come here for a cool bar that serves pretty high-end cocktails, champagne and an array of wines and beers. Oh, and be sure to check out afternoon tea and/or the dream champagne dinner for the true Ivy experience. 
Beaufort House
Beaufort House is a chic and trendy bar towards the south end of King's Road. 
It boasts an enormous selection of cocktails, with classics like espresso martinis and inventive originals like the vodka-based Lasting Passion and The Godfather (a boozy mix of Monkey 47 Whiskey and Amaretto). 
The décor is sleek, modern, and spacious, with a champagne bar and brasserie and cocktail bar. The food is excellent too. 
Unmissable King's Road Shops
Kings Road Chelsea, and the Duke of York Square, in particular, host a superb range of shops covering everything from independent boutiques to high-end fashion brands and everything in between. 
There are near-limitless shops to explore – and far too many to mention – so make sure you check out the Duke of York Square site itself.
Trilogy
Trilogy is a denim boutique located on Duke of York Square. The store is known for its expertly curated selection of designer jeans – a denim lover's paradise. 
If you're a denim enthusiast (or simply in the market for a new pair of jeans), this is an excellent spot to visit in the famous Duke of York area. 
Anthropologie
Among the many King's Road London shops not on the Duke of York Square is the super-popular Anthropologie lifestyle and fashion brand, with its classic selection of bohemian-chic furniture, homeware and clothes. 
It's the perfect shop for finding quirky gifts and one-of-a-kind pieces. 
OSKA
Focussing on contemporary and classic comfortable fashion pieces, OSKA's Chelsea shop combines soft, high-end fabrics with clean designs. Their clothes are non-fussy and effortlessly wearable. 
Cosmetics a la Carte
Just off the King's Road is Cosmetics a la Carte, a bespoke makeup brand that offers personalised consultations and custom-made products. They've gained massive success from celeb backing by Emma Watson and Kate Moss.
NU
For quirky high-end fashion, visit the Istanbul-based fashion brand NU and admire their stunning pieces. Located near the Duke of York Square, it's the perfect place to pick up a cool London souvenir. 
Duke of York Square Market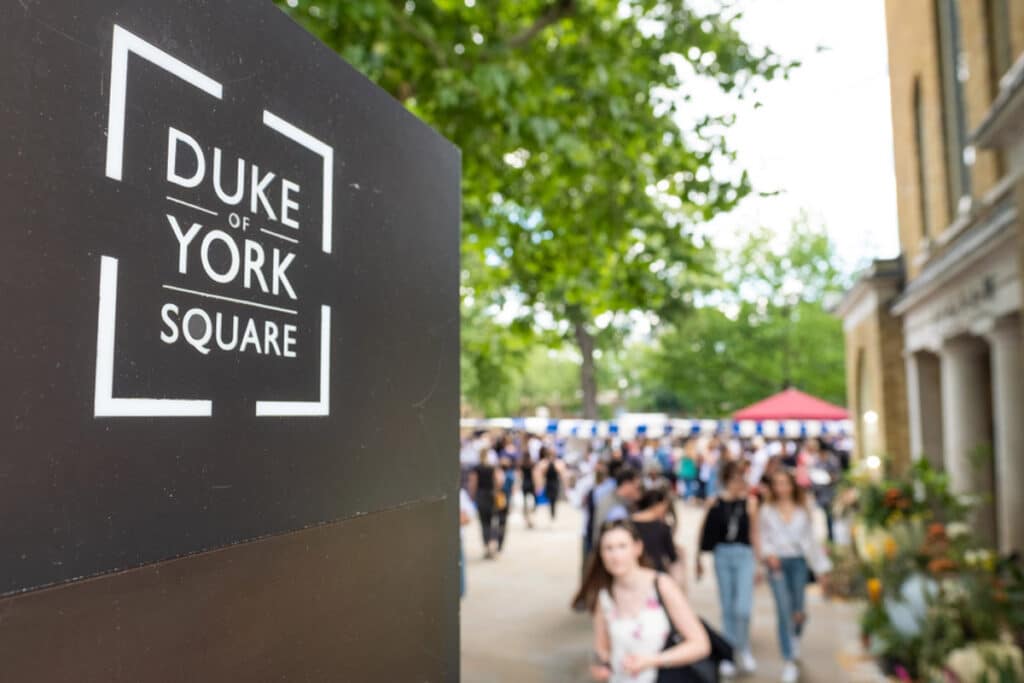 The Duke of York Square holds a market every Saturday, focussing primarily on independent food and artisanal goods. There are many stalls selling an eclectic mix of clothing, accessories and homeware. 
Monica Vinader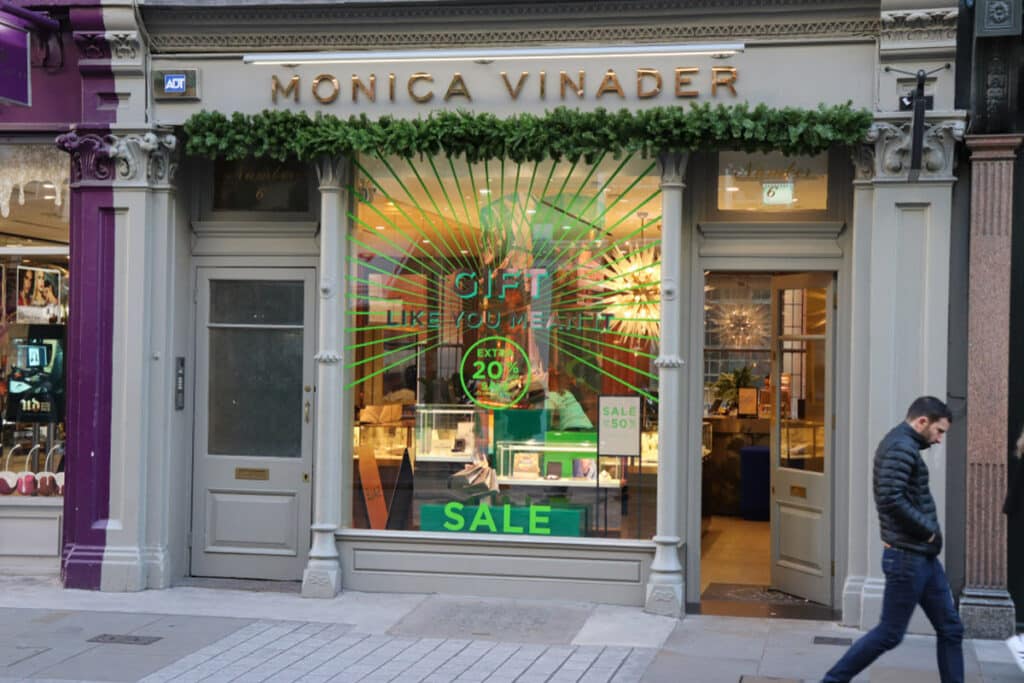 Luxury jewellery brand, Monica Vinader, offers a fine range of unique pieces focusing on high-end piercings. This celeb-backed shop has a highly reputable piercing studio, and the prices are pretty reasonable. 
Zadig & Voltaire
Zadig & Voltaire is an upmarket French fashion brand founded in 1997 and is world-renowned for its cool, edgy style. With men's, women's, and kid's departments, it's perfect for finding the next centrepiece of your wardrobe. 
King's Road, London: Practical Information
Kings Road shops are plentiful and can be found down the road itself and the square.
To visit Kings Road London, your nearest tube stop is Sloane Square, at the top of the road, minutes away from Duke of York Square. 
If you head south, you can cross the river over the Chelsea Bridge and head towards Battersea Park and Power Station – we highly recommend spending a day doing this!
King's Road, Chelsea: Map
King's Road, Chelsea: Read Next