Twenty years ago US-led forces invaded Iraq to oust Saddam Hussein. The Iraqi military was crushed and Saddam was chased from power in a span of weeks, but the consequences of the US action have reverberated domestically and in geopolitics to this day.
October
The US Congress votes overwhelmingly to authorise President George W Bush to use force against Iraq after the Bush administration argues that Iraq's weapons of mass destruction pose an immediate threat to US and global security.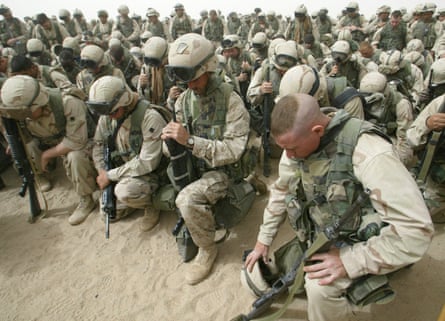 February
The US secretary of state, Colin Powell, seeks international backing for military action against Iraq in a presentation before the UN security council, using satellite photos and communications intercepts to try to show Iraq's deceptions over weapons of mass destruction.
March
US-led forces invade Iraq from Kuwait to oust Saddam Hussein. The effort crushes the Iraqi military and chases Saddam from power in a span of weeks.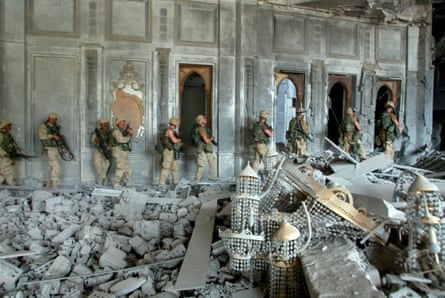 April
US troops seize Baghdad. Saddam goes into hiding. Lawlessness quickly emerges in Iraq's capital and elsewhere, with US troops failing to bring order.
May
President Bush declares that "major combat operations in Iraq have ended" and that "in the battle of Iraq, the United States and our allies have prevailed." As he speaks aboard an aircraft carrier a banner behind him states, "Mission Accomplished."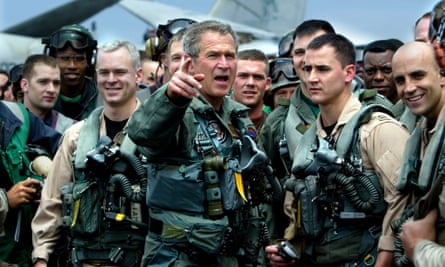 Summer
An insurgency arises to fight US-led forces. US forces fail to find weapons of mass destruction.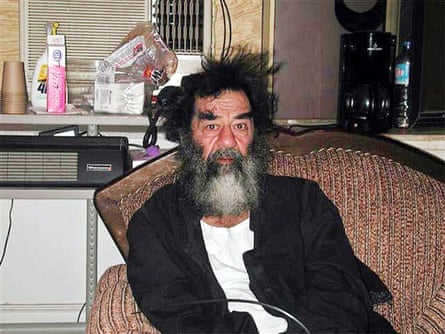 December
US troops capture Saddam hiding in a hole near Tikrit.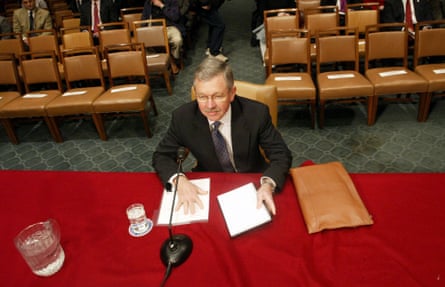 January
Top US weapons inspector David Kay acknowledges to Congress that "we were almost all wrong" about Iraq's weapons of mass destruction.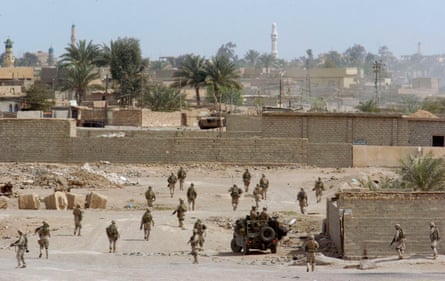 Spring
The insurgency intensifies, with violence in Falluja and elsewhere in the mainly Sunni Muslim Anbar province as well as violence by followers of Shia cleric Moqtada al-Sadr in major Shia cities in the south. The US faces international condemnation after photographs emerge showing abuse of detainees at the Abu Ghraib jail.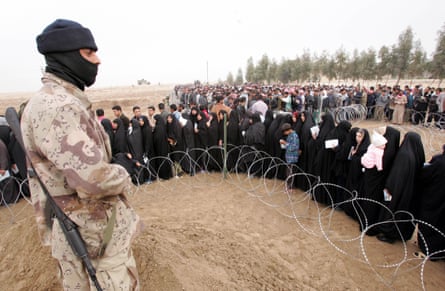 January
Millions vote in the first multiparty elections for 50 years. A series of attacks across the country kill at least 36 people.
April
Jalal Talabani, a Kurdish politician and former guerrilla leader, is sworn in as president of Iraq.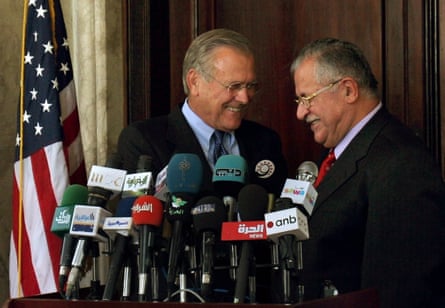 September
Lynndie England, a US private who was pictured holding a naked Iraqi prisoner on a leash at Abu Ghraib, is sentenced to three years in jail by a military court.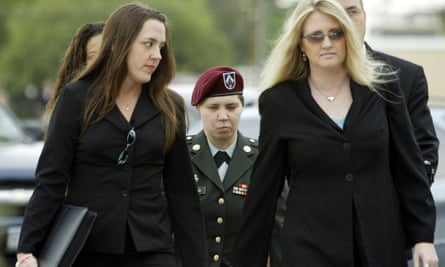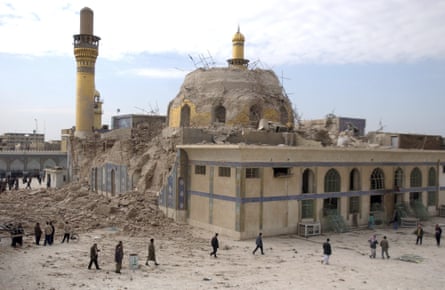 February
The bombing of a Shia shrine in Samarra sparks widespread sectarian slaughter, raising fears of civil war between Shia and Sunni Muslims.
April
Shia politician Nouri al-Maliki is asked to lead postwar Iraq's first full-term government as prime minister.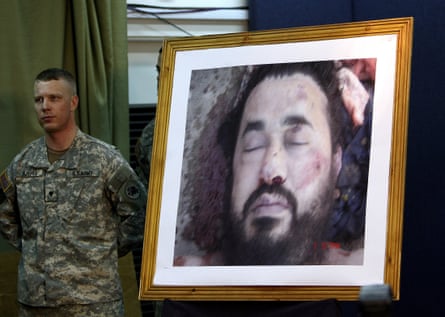 June
The al-Qaida leader Abu Musab al-Zarqawi is killed in a US airstrike near Baquba. He had a $25m bounty on his head.
December
Saddam is executed at the Khadamiyah intelligence centre in Baghdad. Mobile phone footage emerges of him being taunted at the gallows.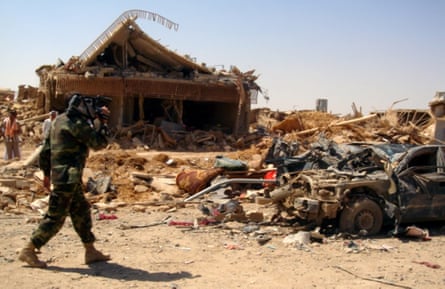 August
More than 400 people are killed as four suicide bombers detonate cars in two villages occupied by Yazidi Kurds in northern Iraq.
September
Guards from the US private security contractor Blackwater are accused of opening fire on civilians in Baghdad, killing 17.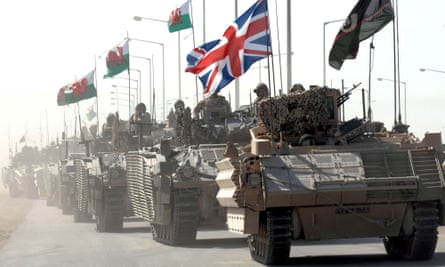 December
British forces formally hand over control of Basra to the Iraqi government in a move paving the way for a major reduction in the number of British troops in Iraq.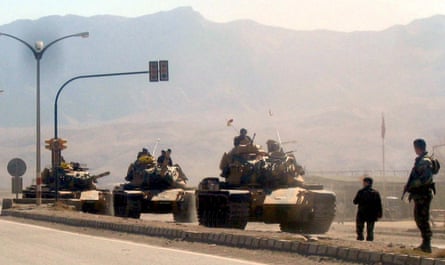 February
Thousands of Turkish troops are sent across the border into northern Iraq in a major ground offensive against the Kurdish PKK rebel forces.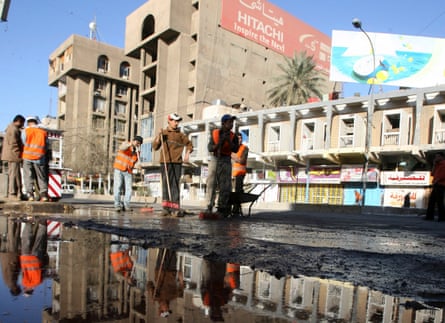 March
A roadside bomb, followed by a suicide bomb, kills 68 people at a busy shopping area in the centre of Baghdad, the second deadliest attack of the year thus far.
November
Iraq and the US sign an accord requiring Washington to withdraw its forces by the end of 2011.
March
The newly inaugurated US president, Barack Obama, announces the withdrawal of 12,000 US troops by the end of August 2010. Up to 50,000 will stay on until the end of 2011 to advise Iraqi forces and protect US interests.
April
Britain officially ends combat operations in southern Iraq, handing over control of its base in Basra to US forces.
June
US troops withdraw from Iraqi cities, leaving Iraqi forces in control of security.
July
The first independent inquiry into the Iraq war, chaired by Sir John Chilcot, opens in London.
2010
January
Ali Hassan al-Majid, better known as Chemical Ali, is executed for crimes against humanity in Iraq's highest profile execution since Saddam's hanging.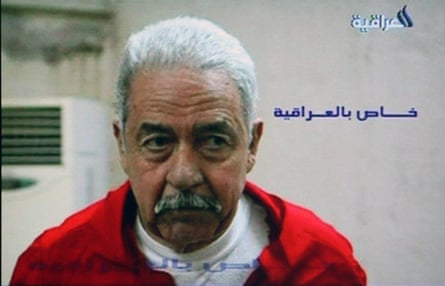 May
Former prime minister Ayad Allawi is the surprise winner of parliamentary elections, but his 91 seats are insufficient to form a government.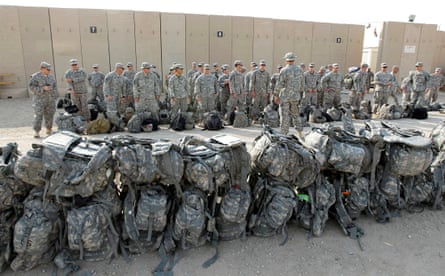 August
Iraq's two main political blocs suspend talks on forming a government. The last US combat troops leave Iraq.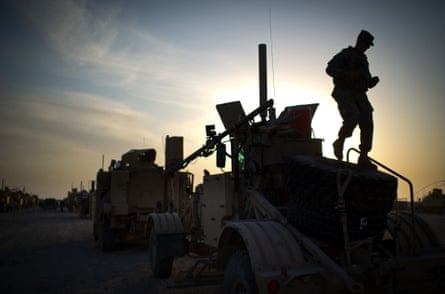 December
US troops complete their withdrawal. Iraq issues an arrest warrant for Sunni vice-president Tariq al-Hashimi on anti-terror charges, sparking a political crisis.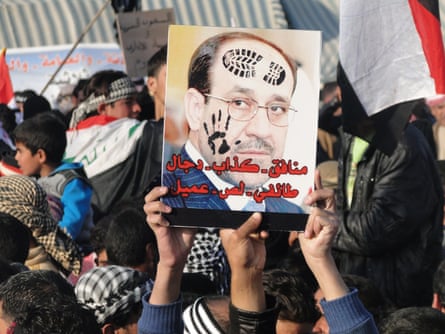 December
Major protests start, particularly in the Sunni province of Anbar, demanding Maliki's departure.
April
Clashes in Hawija in northern Iraq between security forces and anti-government protesters allegedly infiltrated by militants kill more than 240 people in a week.
August
More than 70 people are killed in attacks at the end of Ramadan, claimed by the powerful jihadi Islamic State of Iraq and the Levant, a group that becomes known as Islamic State and then IS.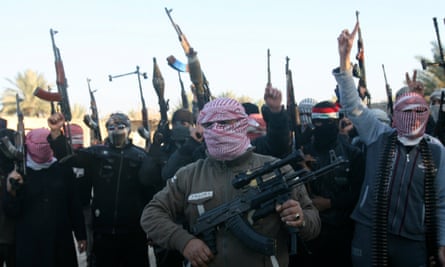 January
Iraq loses control of Falluja and parts of Ramadi in Anbar province to al-Qaida-linked fighters after security forces cleared an anti-government protest camp. The UN estimates nearly 500,000 Iraqis flee the fighting in subsequent months.
April
Maliki wins the most seats in the first general election since US troops departed, but his State of Law alliance falls short of an overall majority.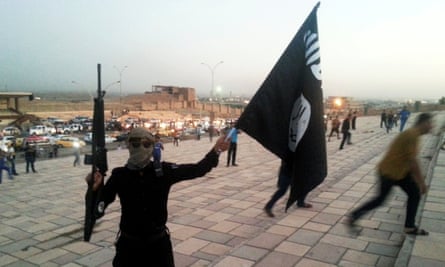 June – September
Sunni rebels led by IS surge out of Anbar province to seize Iraq's second city of Mosul and other key towns. Tens of thousands flee amid atrocities. Kurdish forces, the US and Iran assist the government in repelling attacks.
September
Shia politician Haider al-Abadi forms a broad-based government including Sunni Arabs and Kurds. The Kurdish leadership agrees to put an independence referendum on hold.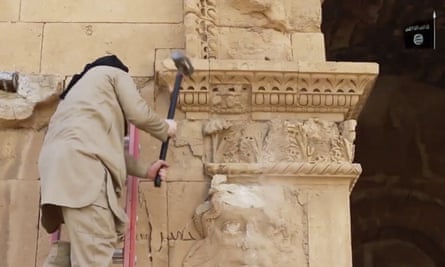 March
IS destroys the Assyrian archaeological sites of Nimrud and Hatra.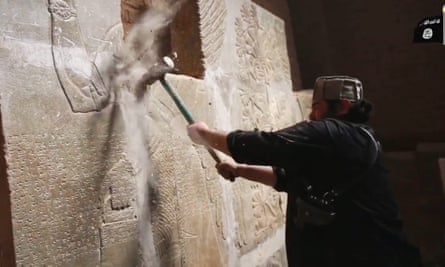 April
Government forces reoccupy Tikrit and drive out IS after a month-long siege.
May
IS captures Ramadi, the capital of the western province of Anbar, in a lightning assault.
August
Parliament approves reforms to cut corruption and sectarian government job quotas after riots against frequent power cuts.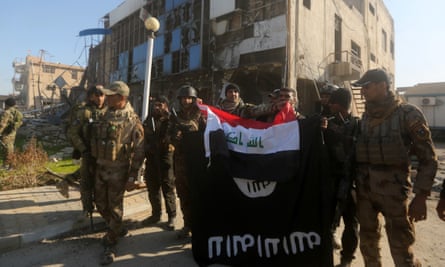 December
Government forces recapture central Ramadi.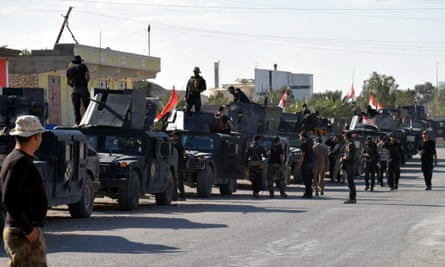 February
Government troops expel last remaining IS fighters from the Ramadi area. Shia cleric Moqtada al-Sadr leads a mass demonstration in Baghdad in protest at government corruption and the slow rate of progress in delivering on promised reforms.
April
Supporters of Sadr storm a parliament building demanding a new government to fight corruption and end the allocation of government posts along sectarian lines.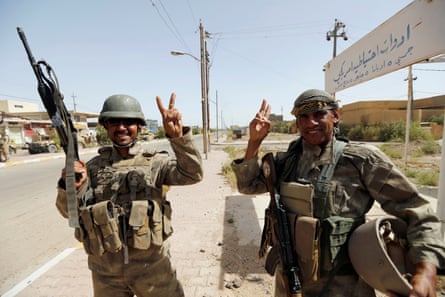 June
Iraqi forces retake Falluja from IS. The city is destroyed and deserted, with burnt-out cars and debris.
October
Abadi announces the start of the operation to liberate Mosul.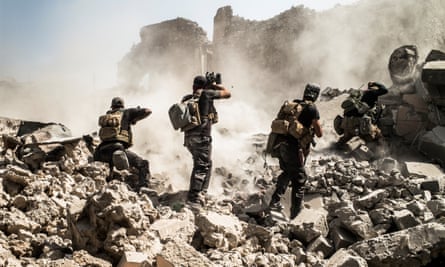 June
Iraqi forces launch battle for Mosul's Old City, the last IS stronghold there. IS destroys Mosul's iconic al-Nuri Mosque and its 12th century leaning minaret as Iraqi forces close in.
July
Abadi victory over IS in Mosul and end of the extremists' caliphate in Iraq.
December
Abadi declares victory over the Islamic State.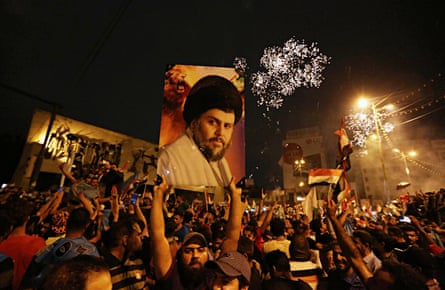 May
Political bloc led by Sadr wins parliamentary elections. After a recount, results are finalised in August.
July
Widespread unrest sweeps across the oil-rich Shia heartland of southern Iraq, as protesters vent their anger over electricity cuts, poor services and unemployment amid post-election uncertainty.
September
Protesters storm the Iranian consulate in Basra as demonstrations turn deadly.
October
Iraq's newly named president, Barham Salih, chooses the independent Shia politician Adel Abdul-Mahdi to be the next prime minister and form a government.
October
Mass protests spread to Baghdad, as demonstrators' demands evolve from initial calls for employment and better services to the fall of the government. Scores are killed and thousands injured.
December
A US civilian contractor is killed and others injured in a rocket attack on the K-1 airbase in Kirkuk province. The US blames the Iran-backed Hezbollah militia and bombs their positions in Iraq and Syria. Shia militiamen attack the US embassy in Baghdad.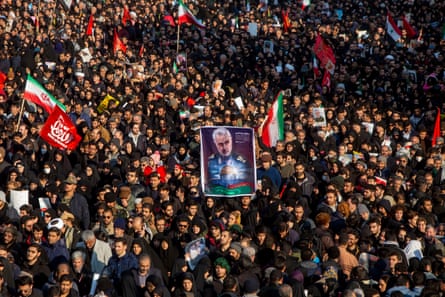 January
A US drone strike on a convoy travelling near Baghdad international airport kills Qassem Suleimani, the commander of Iran's Revolutionary Guard Corps, among others, in a dramatic escalation of an already bloody struggle between Washington and Tehran for influence across the region. Iran responds by launching a volley of missiles at an Iraqi base hosting US soldiers.
March
Two Americans and a British soldier are killed in a rocket attack on Camp Taji, just north of Baghdad. Within hours airstrikes are reported on an area of the Iraqi-Syrian border used as a base by an Iran-backed militia.
May
Iraqi lawmakers approve Mustafa al-Kadhimi as prime minister and head of a new government, after six months without one.
December
The international criminal court formally abandons its long-running inquiry into claims that British troops committed war crimes in Iraq between 2003 and 2008. Donald Trump pardons four security guards from the private military firm Blackwater who were serving jail sentences for killing 14 civilians including two children in Baghdad in 2007, provoking outrage in Iraq.
2021
January
Two suicide bombers kill dozens of people at a Baghdad market, in the worst such attack in three years.
February
A rocket attack on a US airbase in the Kurdish region of Iraq kills a civilian contractor, sparking fears of escalation in the first serious test of Joe Biden's policy towards Iran.
July
A suicide bomber kills dozens in a crowded market in the Sadr City neighbourhood of Baghdad. IS claims responsibility.
November
Iraqi PM Mustafa al-Kadhimi survives an assassination attempt using an exploding drone. The populist political bloc led by Sadr is confirmed the winner of an election held in October, but falls far short of a majority, sparking months of political crisis and near deadlock.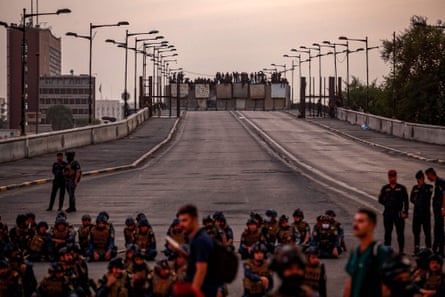 July
Hundreds of Sadr's supporters storm the parliament building in Baghdad's high-security Green Zone in protest at a rival bloc's nomination for prime minister.
August
Months of political tensions over stalled attempts to form a government spill over into violence, as militias clash in Baghdad's Green Zone after an announcement by Sadr that he is quitting politics.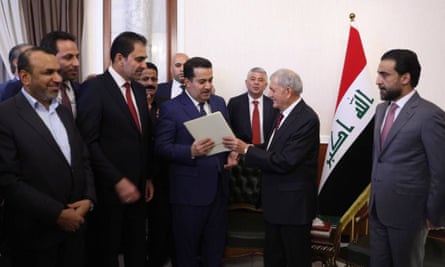 October
Parliament elects as president the Kurdish politician Abdul Latif Rashid, ending a year of deadlock after the October 2021 election, then approves a new government headed by Mohammed Shia al-Sudani as the new PM.
December
At least nine police officers are killed in a bomb and gun attack near Kirkuk that is claimed by IS.