When I was growing up in the 1970s, I would not have given much thought to fashion for the over-50s and what I might wear if I had the good fortune to live to see such obscene decrepitude. But if I had, I would have imagined wearing what my late grandmother called "slacks" (elasticated-waist trousers), long-line ribbed cardigans with large ornate buttons and comfortable shoes from Clarks.
My grandma, Vera – who was 52 when I was born – liked to be what she termed "smart", but definitely conformed to standards of what was "acceptable" at the time. She bought most of her clothing from charity shops or Marks & Spencer. The charity shop dream was to find secondhand items from Jaeger, Windsmoor, Planet or – the holy grail – Dannimac.
She did have a personal style and occasionally wore very loud earrings. But she knew what she was "supposed" or "allowed" to wear and which brands would provide it. Clothes were a pleasure.
On the brink of 50 myself, I realised recently that all those reliable "grandma labels" have either disappeared or only exist in some other incarnation: BHS (tanked in 2016), Debenhams (folded into Boohoo.com after liquidation in 2021), C&A (still operating in Europe but the last UK stores closed in 2001), Jaeger (now on sale at M&S). House of Fraser closed 31 of its 59 stories in 2018 and was bought out by Sports Direct (it has a new flagship store in Wolverhampton called Frasers).
Even Dannimac was dissolved as a standalone company in 2018, although the brand name lives on at JD Williams. I was amazed to find they currently have a padded dark khaki gilet for £76, which I am tempted to buy in honour of my grandma. (Trinny Woodall, 59 and with 1.2 million Instagram followers hanging on every morsel of her wardrobe advice, says everyone needs a gilet.)
So what are you "supposed" to wear when you turn 50? Does that demographic still even exist as a retail concept? Hope Fashion is one of the only brands specifically aimed at women over 50: it was launched in 2015 by Nayna McIntosh, former head of store environment at M&S. Hope recently sought crowdfunding from its 20,000 customers after two investors pulled out. McIntosh said it was "hard to attract funding from predominantly male investors".
Many brands which have emerged as successful competitors for the post-midlife-crisis market rarely trumpet their demographic, aiming instead for the suggestion of an ageless customer: Boden, Autograph at M&S, Mint Velvet, Me+Em, Toast, Sosandar, Jigsaw, Anthropologie.
Trinny Woodall consistently champions the idea of "ageless" beauty and fashion, which is obviously hugely appealing to an ageing female population who don't want to feel as if they ever have to "give up". My instinct, though, is that most brands rarely talk to older customers directly because no one wants to be reminded that they are an older customer.
However, I also hear a great deal of angst from women about mixed cultural messages. On the one hand, over 50s wants to feel they can wear whatever they choose. On the other, they want to feel reassured that their demographic is "special". And they are scared that if they wear whatever they want it will be "wrong". It's as if being older is simultaneously totally meaningless ("We're all ageless now!") and profoundly meaningful ("So much empowering wisdom!"). It's confusing.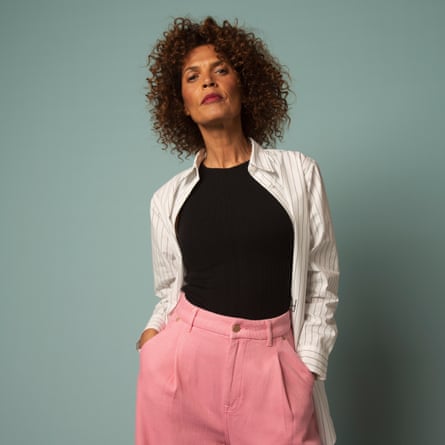 Overwhelm has taken the pleasure out of clothes shopping. There is an avalanche of style advice on social media, so many new brands, so much advertising, so many ways to shop – online versus bricks and mortar, renting versus secondhand – and fear of ridicule looms large. Many of the cries for help on internet stylist forums reflect this. "Can I really get away with wearing a tangerine trouser suit?" "Is this much leopard print too Bet Lynch?" "Am I too old for pleather?"
People now have too much self-awareness to talk about "mutton dressed as lamb", but this idea has never quite gone away – it's just been rephrased. Similarly, it's nearly 30 years since Arabella Weir's character in The Fast Show asked "Does my bum look big in this?". We know we are not supposed to ask this question any more, and that it's body-shaming and self-hatred – but somehow the question is still here.
Natasha Musson is a 48-year-old Somerset-based stylist who works with women in their 50s, 60s and 70s who are clearing out their wardrobes. They are often women who have a lot of clothes but feel as if they have nothing to wear – and then feel guilty about it. Their main problem, she says, is that shopping for clothes has become daunting and exhausting.
"Gone are the days when you'd just take a day out, waltz about, find something new and come home feeling fulfilled. We have seen it all on social media and are being told all the time what to wear and how to wear it … This adds to the pressure of being a little bit older and trying to keep it all together."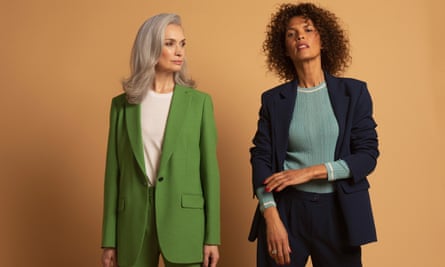 She sees her main task as reducing what she calls her clients' "overload" – too many clothes, not enough storage space, the pressure to buy more. She gets people to pick out the clothes they already own that mean the most to them and then she works around that. If you are going to buy anything, invest in "better basics". It's pretty simple, she says: "If you're not comfortable, you won't be stylish."
Karen Arthur, a teacher turned stylist, activist and host of the podcast Menopause Whilst Black, says: "I get more compliments on my style as a woman in my 60s than I did in my 20s or 30s."
Ten years ago she ended a 30-year career in teaching and her beloved aunt died. She began documenting the link between her mental health and her sense of style on social media: "I was diagnosed with anxiety and depression – and I realised I was menopausal." As she cleared out her aunt's flat, she found that the only thing that cheered her up was hanging on to her aunt's favourite outfits.
"She wasn't into fashion but she was into good clothing. She had this St Michael maxi skirt and a C&A pleated skirt that I really took to. At the time, most days I didn't even feel like getting dressed but those were the things I would reach for because I missed her. So I started talking about that under the hashtag #wearyourhappy."
She says it took her "about another seven or eight years" before she truly, properly realised that she just didn't "care what other people think" and began to wear whatever she felt like. At that point she gave away 95% of her wardrobe to charity.
In the run-up to a 50th birthday, a lot of anxious thoughts loom large for many people: the volume of "stuff" you've accumulated over your adult life; the environmental cost of all that stuff; and the awareness that these things don't really matter when millions of people are using food banks. These concerns are not specific to the over-50s, but the older you get, the heavier they can weigh. Despite austerity and the economic after-effects of the pandemic, the average UK shopper will still be buying 27 new items a year by 2030, according to sustainability thinktank the Hot Or Cool Institute. (By its reckoning, the maximum should be nine new items a year.)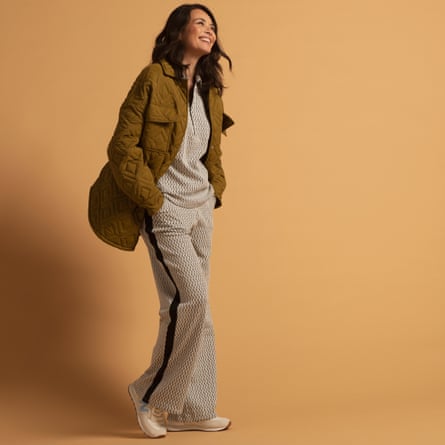 Lucinda Chambers, founder of digital shopping platform Collagerie, and formerly fashion director of Vogue for 25 years, says: "There is an appetite for finding 'this one thing' – whether that thing is ultra-luxe or very affordable – because otherwise the choice is overwhelming. That is what makes shopping so unpleasurable now."
True value, she says, lies in a great edit of both designer brands and the high street – which is what she and her co-founder Serena Hood do at Collagerie. Hood is also ex-Vogue and in her 30s. They curate online collections of fashion and home items on a regular basis. Their selection might include a £2,850 Raya sequined dress and a £1,950 Burberry trench (grandma would faint) alongside things you might actually buy, such as a Zara stripe knit for £26 or suspiciously similar £39 trenchcoat from H&M.
Chambers says her own style has not changed in 30 years. "When I started at Vogue at 18, I made all my own clothes and wore vintage. Everyone else was in Chanel, or lookalike Chanel. I always felt 'not in fashion'." She remembers her own grandmother wearing "a Jaeger stretch pant in olive green and matching crew neck". (My grandma would have killed to find this in a charity shop.) She sees women in their 60s and 70s in the street and thinks, "Oh! She is getting so much pleasure from getting dressed every morning!" These women are distinctive, she adds, because they've worked out what suits them and they dress exclusively for themselves – not for the approval of others. Style is worth bothering with, she says, because "it is so life-enhancing".
But what if you feel "too old" to wear something? "That's in your head," Chambers says.
Her own tricks? Find an item from a brand that really fits you and suits you and stick with it. ("Toast do the only trousers that suit me.") Find colours that suit you (for Chambers that's khaki and navy, not pink and purple). "If I buy something now I have to think, yes, but will I love this when I am 80?"
Marielle Wyse started her brand Wyse London eight years ago when she was 49. "I'm nearly 60 but in terms of what I'm wearing and my style, I really don't notice much difference to a decade ago," Wyse says. "I think style is completely and utterly ageless. I just call it 'clever dressing' – enhancing your best bits and covering up your not-so-great bits. That's something that should happen at any age. 'Fashion' will come along and say, 'You must wear a miniskirt!' And I think, who says I must?"
Wyse says that some of the most stylish women she sees are in their 70s and 80s: "They frame themselves, they tailor themselves … Your shoulders sag when you get older so you just frame your shoulders better." This is one of Trinny's tricks, too: use shoulder pads and/or pay close attention to how padded the shoulders are on a jacket.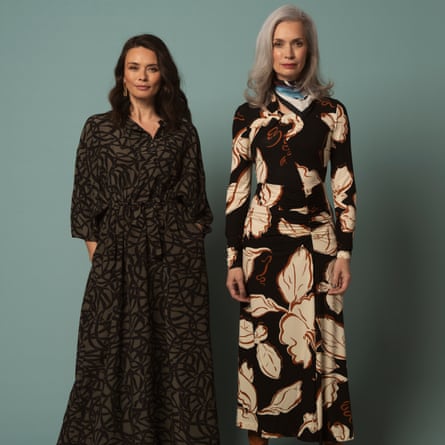 To which Wyse adds: "Quality fabric. Buy less. Buy better. That's always going to look fantastic." Her brand does occasionally acknowledge a trend: "For example, three years ago I would have said, 'No I am not going to wear mustard.' Now we have a mustard scarf. So you do nod at these things gently." (It is a £150 cashmere scarf in "ochre".)
Shopping on Instagram is often disappointing because an item of clothing rarely looks as good as in a photo. Plus, a lot of the looks are marketed at potential Love Island participants. But it is still the best place for over-50s stylists, for vintage and secondhand pieces, and for inspiration.
Women over 40 can afford to pay more for clothes, Wyse says: "It's a big and powerful demographic. They might still buy black trousers and a white shirt at Zara, but they also want a beautiful print, cut and fabric for a special-occasion purchase." But crucially, that doesn't mean that the clothes are "for the older woman". "We have a lot of mother-and-daughter customers. The mother buys it, the daughter borrows it. They style and wear it differently."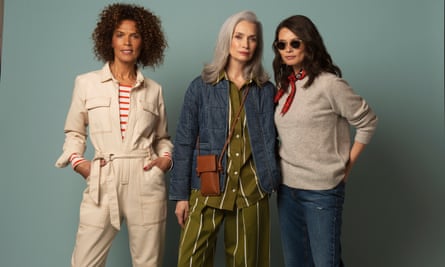 Karen Arthur adds that while it's not easy to ignore the avalanche of contradictory marketing slogans, it's worth the effort: "I see all these 'rules' on social media posts that I find bonkers. 'You can't show your boobs and your legs at the same time.' 'You can't wear black tights with white stilettos.' 'Here's what to wear if you're over 40.' I mean, fuck off. Those rules don't serve humans. They only serve people who want to make money out of us."
Her own rules? "Look at what you love. Make sure that the first thing you put next to your skin – your underwear – is something that makes you feel great. Have another look in your wardrobe. Don't keep things for best. We've just been through a global pandemic. We should dress every day like we're partying because we're glad to be alive."
Stylist's assistant: Rosalind Donoghue. Hair: Rom Sartipi using Oribe. Makeup: Sophie Higginson using Noble Panacea + Tom Ford beauty. Models: Evelyn, Kelly and Susan, all at Mrs Robinson